James Alexander Gordon - tribute to a radio sport legend
Last updated on .From the section Football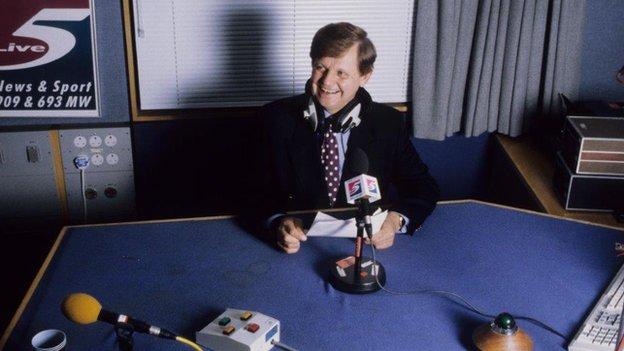 Mark Pougatch, Radio 5 live Sport presenter, pays tribute to James Alexander Gordon, who is retiring from his role reading the classified football reports for BBC radio.
The word "legend" is far too readily bandied about by people in the sports media and we've all been guilty of using it lazily at some time.
But when you've been part of an institution for four decades and when everybody who tunes in - even non-believers of football who might be listening in sufferance - grows to love your style and idiosyncrasies, then you, too, can claim to have graduated to legendary status.
Not that James Alexander Gordon - or "Jag" - would boast in such a manner, for he's a modest man, but very proud, and rightly so, of the part he's played in the world's most famous radio sports programme.
For all of us at the good ship BBC Radio Sport, he was always Jag.
"Jag's ready," the producer's voice would inform me through my headphones. "Jag's been held up on the M4 but he should make it for 5 o'clock," I would be told on another day.
One afternoon, Jag needed a police escort along the highways to get him to the studio - his church - on time.
I first listened to Jag while playing football, snotty-nosed and dirty of face, in the garden at home in East Sussex. To go on to meet and then introduce him at 5 o'clock in Sport Report has been an enormous honour.
I've lost count how many times I have told people that it is possible to tell by his inflections what the result of a match is after he has read the home team's score.
Although we never quite had a "Forfar 4 East Fife 5" scoreline read out in his mellifluous tones, every time I hear the score from Molineux I will think of Jag, for no-one else will ever quite say "Wolverhampton Wanderers" in the same soft, Scottish, lilting way.
Thank you, Jag, from all of us for being such a core member of our team. Whoever succeeds you, you will always be part of Sports Report's history.