Olympic legacy: No barriers to ladies' football - Karen Carney
Last updated on .From the section Football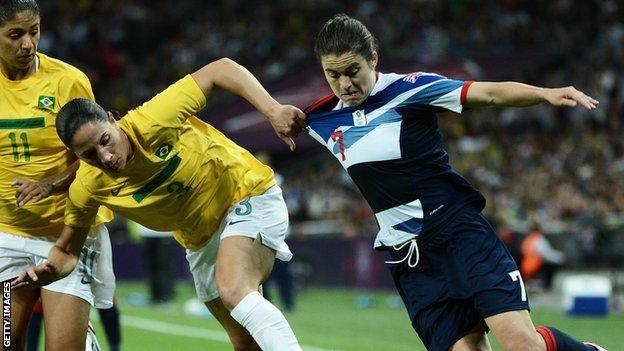 Birmingham City Ladies and England winger Karen Carney can pinpoint two moments in the last month which have helped spell out to her just how much women's football has grown in importance since last summer's Olympic Games.
Not only did they lose, they were heavily criticised too. Welcome to our nightmare, must have been the thought of every England male international footballer since 1966.
The pressure, followed by the pain, that goes with first trying, then failing, to fulfil the needs of an expectant nation can prove a hard pill to swallow.
"We're getting a lot of negative press, which is hard to cope with," the 25-year-old told BBC WM. "People are entitled to their opinion but, if we're honest, we didn't deserve to go through.
"We obviously had a disappointment in the Euros, massively so after the Olympics when we only got to the quarter-finals, but got a lot of respect for the way we played.
"But it just shows how the level of interest, and especially the media interest, has gone up tenfold."
In recent years, the women's game has seen its exposure grow on terrestrial television, which can be a huge help in the growth of any sport. Just ask any club professional at golf courses all around the country concerned at the prospect of junior memberships falling, now that the Open Championship is the only European tournament shown live on the BBC.
The fact that England Ladies do have a growing audience helped create the second and more positive of Carney's two post-Olympics experiences on a pre-planned school visit.
"I went into a school this week and the kids were asked, 'Did you watch the European Championship?'" said Carney.
"Almost everyone put their hand up. And it's not just the girls it's had an effect on, it's young lads too.
"When I was growing up some of the lads weren't very nice about me playing.
"That was a factor in the low participation rate. You don't want to get bullied or called out.
"It wasn't pleasant but now it's nice to be able to turn round and say that this is what I achieved.
"That's the most rewarding thing. Now they're really supportive and they acknowledge their arrogance in the first place.
"When we played Brazil in front of 70,000 at Wembley, it was the first game there for a female team.
"I remember actually saying to Kelly Smith as we lined up before the game, 'This is the stuff that dreams are made of'.
"It was an amazing thing to be a part of. And it's nice that people have changed their views. They've accepted that it's OK for girls to play.
"There are now no obstacles or barriers, which is what my generation had not so long ago.
"And the Olympics showed that anyone, no matter who they are, whether they are able-bodied or not, can compete in sport."