Cardiff City: Sam Hammam urges fans to back Vincent Tan
Last updated on .From the section Football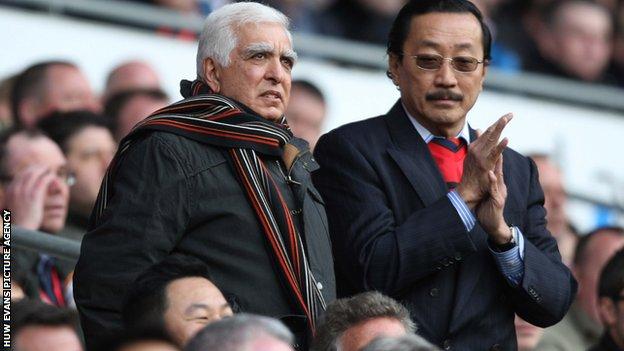 Sam Hammam has urged Cardiff City fans to back owner Vincent Tan ahead of the club's debut Premier League season.
Hammam says fans should get behind Tan, in spite of some residual discontent over the decision to change the club colours from blue to red.
"Fans have a role to play and the role is to make him feel wanted," he said.
"These are exciting times. We are now in the Premier League which is the beginning of the road to reach the dream of playing hopefully at the top of the Premier League and in Europe if we can.
"And in Vincent Tan we have the best man to do it."
Hammam left Cardiff in 2006 with the club owing a sum in excess of £15m to Swiss-based Langston Corporation.
The club and Langston this week announced "an amicable resolution" to the debt issue, with Malaysian owner Tan saying he was "grateful and indebted" to Langston spokesman Hammam for reaching a settlement.
The pair claimed the deal had been agreed so Cardiff's sole focus could be on building for the club's forthcoming Premier League campaign
And Hammam says Cardiff will face plenty of challenges in English football's top-flight next season without Tan having to contend with a section of supporters unhappy with rebranding of the club.
The Lebanese-born businessman said Cardiff had to show a united front if they were to establish themselves in the Premier League.
"Considering the formidable task he has to do the last thing we want is to put a ball and chain on his leg and tell him to go and fight Muhammad Ali," Hammam told BBC Wales.
"He has enough things to face which is the enemy. I think we have to appeal to the other side of Vincent Tan which I call the ace of hearts.
"Believe me he can be as hard as a diamond but he can be as soft as putty.
"We won't win against the ace of diamonds, we'll win with the ace of hearts."
Hammam added Tan's presence was vital if Cardiff are to develop on and off the pitch over the coming years.
"I think we need Mr Tan for many, many things," Hammam said.
"We need Mr Tan in my opinion on capital projects. If the stadium needs to be expanded in many stages, that's what we need, his money.
"We need him if we are going to do a training ground, we need him if we are establishing very young kids. These are our assets.
"We need him and [manager] Malky [Mackay] to be inspired. They are working very hard and we hope they can get the team and everything will follow.
"Can we do it? If anyone can do it, he can. He's a winner."