Huddersfield Town: Owner Dean Hoyle wants two more signings
Last updated on .From the section Football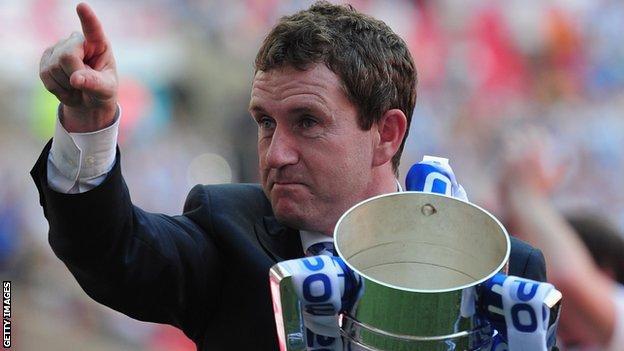 Huddersfield Town chairman Dean Hoyle has said he is hopeful of bringing in two more signings, but other players must leave the club first.
"We need two more players to complete the squad," Hoyle told BBC Radio Leeds.
"With Financial Fair Play coming in, we're struggling to get them without others going out."
He continued: "We're going to have to do a bit of wheeling and dealing over the next couple of weeks and hopefully by the end of August it will all have come together.
"Good players don't just come along when you want them, you have to work hard to get them."
Meanwhile, Hoyle is confident the club will be able to start purchasing shares in their John Smith's Stadium home in the near future.
The Terriers share the ground with rugby league side Huddersfield Giants and the latter's chairman Ken Davey currently owns the majority of the shares.
"We're ready to complete and hopefully we can get it done in the next four weeks," Hoyle said.
"We've waited a long time to get this sorted, but the key thing here is that the stadium needs us fully on board because we can bring more business here.
"Our future has always been here, whether we're tenants or shareholders. Without Huddersfield Town, this stadium would be a big white elephant."