Luis Suarez: What next for Arsenal, Liverpool & Real Madrid?

Last updated on .From the section Football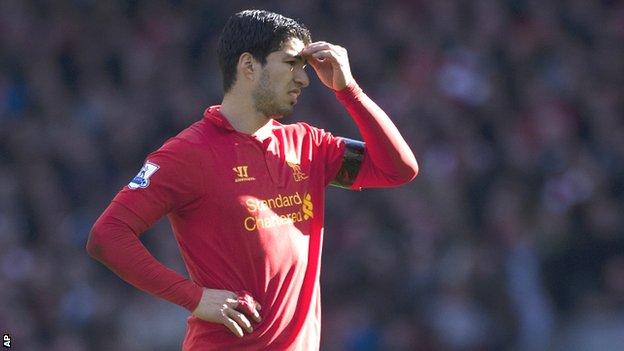 It does not take a great leap to imagine what Bill Shankly would have made of Luis Suarez's attempts to engineer a move away from Liverpool this summer.
After defeat by Arsenal in the 1971 FA Cup final Shankly stood on the steps of St George's Hall, opposite Lime Street station, and told the 100,000 spellbound fans that stood before him that he had "drummed it into our players, time and again, that they are privileged to play for you".
It was a message echoed by Brendan Rodgers after Liverpool's 2-0 pre-season friendly victory against Melbourne Victory at the MCG on Wednesday.
Suarez owed the fans, he said. Suarez had a debt of gratitude to a city that has taken him in like a son and sheltered him as he served lengthy bans for racially abusing Patrice Evra and biting Branislav Ivanovic.
And yet the controversial Uruguayan remains intent on leaving Liverpool this summer, intent on walking away to join a club that can offer him Champions League football.
This transfer saga is delicately poised, a game of poker where all parties have shown their hands, but none yet know what it will take to win.
Arsenal's latest and highly specific offer of £40m plus £1 has established the pattern for the coming days and weeks. The world now knows that a clause exists in Suarez's contract that enables him to speak to any club who offer more than £40m. But it does not mean Liverpool have to sell.
All parties now have a number of options.
SUAREZ
The striker's demeanour during his brief cameo at the MCG did not reflect a man desperate to give his all for Liverpool. His failure to celebrate with his team-mates after he laid on Iago Aspas's late goal was instructive - this is a man who wants out.
Those close to Suarez insist one of the world's leading strikers deserves to be playing Champions League football, deserves better than to be finishing sixth, seventh and eighth in his three seasons at the club and deserves to be playing alongside the world's best players.
The Uruguayan's preference is still to join Real Madrid. And yet he will join Arsenal if the Spanish giants fail to follow up their interest with a firm bid. The ball is now back in Suarez's court and his next step to force the move is to hand in a formal transfer request, something he is considering.
"I'm very disappointed from a Liverpool fan's point of view, in the way Luis Suarez has gone about things," former Liverpool striker John Aldridge told BBC Sport.
"He will sooner rather than later have to put in a transfer request to try to force the matter. I can't say I'm surprised because it seems the way modern day footballers go about their business. There's a massive lack of loyalty there, especially the way Liverpool have stuck by him."
That support has counted for something in Suarez's mind. But in the weeks after that bite, the Uruguayan began to consider his future in English football after being left "shocked and disappointed" by that lengthy ban. If he is to join Arsenal, rather than Real Madrid, Suarez's earlier statement that claimed the British media was forcing him out of England is likely to come back to haunt him.
Were Suarez to hand in a transfer request it would crank up the pressure on Liverpool, but the player would still have to wait for the clubs to agree a fee.
And if the clubs failed to agree a fee? Suarez faces the prospect of starting the season in the red of Liverpool. The 26-year-old found himself in a similar position at Groningen, his first European club. So angered was he by their failure to accept Ajax's bid for him that he took Groningen to court. The case ultimately collapsed but Suarez had pushed it to such an extent that the clubs eventually found a way to get the deal done.
Liverpool are, however, confident that Suarez will not go on strike with the World Cup finals looming next summer.
LIVERPOOL
The Anfield club's position is clear and transparent. They will not sell him unless they receive an offer of £50m plus.
They will also insist Suarez submits a formal transfer request before they allow him to move on, to reflect the fact the player is driving this transfer saga. But having said all that, Liverpool ultimately want to keep hold of Suarez. After all this is the man who has scored 51 goals in 96 games for Liverpool.
So unless they receive an offer that owners John W Henry and Tom Werner see as realistic, Suarez will stay and be given a chance to play as he has for the past two-and-a-half seasons.
The fans may find it a little harder to welcome him back with open arms. They will not boo him, but a bond has been broken - especially given his interest in joining Arsenal, a rival, rather than Real Madrid, which at least could be understood.
"There is no better football club in England than Liverpool," said former Liverpool manager Graeme Souness. "There is no better group of supporters than they have at Liverpool. For me - and I know I'm totally biased - but I go to these big modern stadiums throughout the country and Liverpool still generates the best atmosphere.
"I think the supporters are more understanding than anywhere else. For me he should stay at Liverpool and be a company man and try to get them into the Champions League. His goals would go a long way to helping them do that.
"I would fully understand it if Real Madrid came knocking and he really dug his heels in and said he's got to go because it's a chance to go back to a Latin country. Real Madrid are, right now, arguably the biggest club in the world and I could understand and live with that. But leaving Liverpool and going to another English team is not going to endear himself to any Liverpool supporter."
Were Liverpool to be forced into a sale, they would need to move quickly to find a replacement. There will be no repeat on the snap decision to replace Fernando Torres, who was sold to Chelsea for £50m, with £35m then spent on Newcastle United striker Andy Carroll.
ARSENAL
Arsenal have made a bold play, confident in the knowledge that Suarez wants to join them. And yet they now face the prospect of being able to agree a deal with Suarez but still need to up their offer by at least £10m to get their man.
It would mark the dawn of a new era at Arsenal, one that should return the Gunners as a financial power and one that could see them, as chief executive Ivan Gazidis promised, "competing with any club in the world" to sign the very best players.
When it comes to Suarez, Arsenal believe the game will change once the player tells Liverpool he wants to join them.
There is a hope that will increase the pressure on Liverpool, forcing them to accept a lower offer than they might otherwise, simply to get rid of a player who has made it so clear that he no longer wants to play for them. There are dangers for Arsenal too, however.
They may choose not to up their bid for Suarez, they may not feel there is value in paying £50m for the player. And even if they do decide to triple their transfer record, they are buying a player who comes with no shortage of baggage.
When Wenger has spent big in the past it has not always worked out. Jose Antonio Reyes and Andrey Arshavin failed to spark on a consistent basis. Arsenal will hope for better this time around.
The other potential scenario, one that Arsenal will try to put out of their mind, is that Real Madrid do finally declare their hand, leaving the North London club out in the cold having already decided to allow Gonzalo Higuain join Napoli and concentrate their efforts on Suarez.
REAL MADRID
There is interest but at this stage there is not yet a firm offer, not even a hint that one is close. And yet, Real are set to sell Higuain to Napoli and are now a striker short and £31m better off, although that does not necessarily mean that a bid for Suarez will follow.
In the past the Liverpool striker has admitted it "would be difficult to say no" to Madrid, but there are suggestions that some at the Bernabeu see Suarez's lack of experience in the Champions League as a problem, while others clam his off-field controversies have made it difficult for Real to sell Suarez to their sponsors and commercial partners. But until Suarez signs for another club, Real cannot be discounted.