Coventry City: Sky Blues hope for ground within the city
Last updated on .From the section Football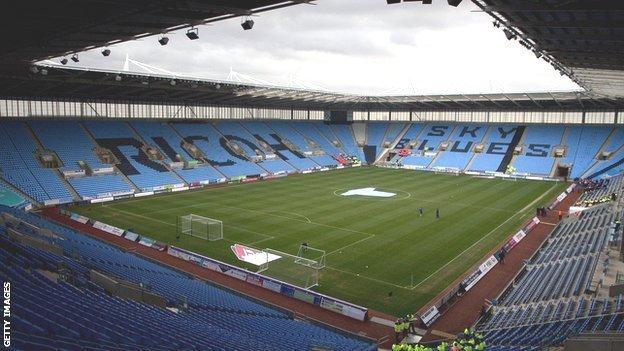 Coventry City have revealed that they hope to finalise a deal to build a new permanent home "within six miles of the city centre" in weeks.
The Sky Blues, therefore, recently agreed a groundshare at Northampton's Sixfields Stadium for three seasons.
But in a statement, the club said it hoped to finalise the deal to build a new ground "within eight weeks".
They have not given the exact location of where they are hoping to build their new ground and say they have entered talks on a second site.
On Saturday, thousands of people took part in a march in support of the League One club playing their home games in Coventry, having been based at the Ricoh Arena since 2005 and at Highfield Road for 106 years before that.
However, they have been in legal disputes with Arena Coventry Ltd, which runs the Ricoh Arena on behalf of its owners, Coventry City Council and the Alan Edward Higgs charity.
And in the wake of last month's takeover of the club by the Otium Entertainment Group, which has strong links to previous owners Sisu, they agreed the groundshare deal at Sixfields.
Coventry City chief executive Tim Fisher said: "We completely understand the pain the groundshare is going to cause our supporters but we have a clear path to return to the Coventry area.
"We are under no illusions at just how tough it is going to be for the next three years but there is absolutely no question that Coventry City Football Club's long-term future is in this area."
He said that once the club agrees on the site, it would start consulting fans because, he said, "we want this to be their home - a home that everyone can be proud of".
Fisher added: "Of course, a home where the club has access to all matchday and non-matchday revenues which are crucial when it comes to financial fair play."
The club said it was working with property consultants CBRE over the deal.
Earlier this week, a creditors meeting in London which could have led to Coventry coming out of administration was adjourned until Tuesday, 30 July.