Kenya FA under investigation by anti-corruption agency
Last updated on .From the section Football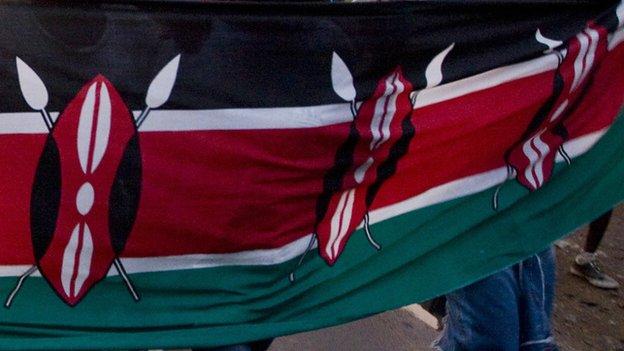 Kenyan football chiefs are under investigation by the country's anti-corruption agency over allegations that several hundred thousand dollars have gone missing.
The money was received from world football's governing body, Fifa, and other donor agencies, officials said.
The Ethics and Anti-Corruption Commission has received information about the alleged misappropriation of up to $410,000 by the Football Kenya Federation (FKF) and investigations are ongoing, said the EACC's public relation chief Yasin Ayila.
"We have information concerning the accounts and everything will be investigated including financial statements, bank accounts and reports," Ayila told reporters.
The soccer federation representative from Coast Province, Hussein Terry, produced documents including bank statements, which he took to the anti-graft body, the Cabinet Secretary for Sports, Hassan Wario, Fifa and the continent's governing body the Confederation of African Football.
Terry was accompanied by the federation's representative from Nyanza Province, Tom Alila, and its vice chairman, Sammy Sholei. Sholei and Alila have been suspended for criticising the federation, although they dispute the sanctions.
The officials claim the federation received $410,000 through its bank accounts which are not in the current financial report.
FKF chairman, Sam Nyamweya, has rejected the allegations, saying the documents are fake and that only signatories to the federation's bank accounts can be given genuine statements.
"Those bank statements they are peddling around are not ours. We have asked our bankers and they, too, deny the statements originated from them," Nyamweya said.
Kenyan football has been embroiled in wrangling and mismanagement for the past 10 years, leading to two suspensions from international competition by Fifa.
Kenya have already failed to qualify for the 2014 World Cup finals in Brazil, although they have one dead qualifier left in their second round group against Namibia in September.
The federation's current officials took over in November 2011 on a wave of support for change and an end to the wrangling that saw Kenya's world ranking dip to 130. They are now 123rd.
Among the monies allegedly missing from the accounts are funds from Fifa's Financial Assistance Programme, sponsorship for the national team, revenue from a World Cup qualifier with Nigeria and television sponsorship for a match scheduled against Jamaica but which did not take place.