Exeter face Fluminense in Brazil centenary rematch
Last updated on .From the section Exeter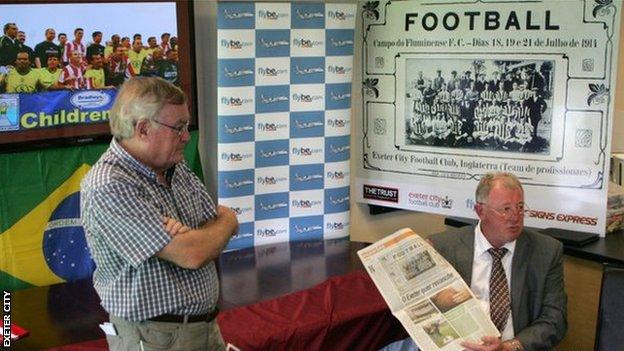 Exeter City will play Fluminense next July to mark the centenary of facing Brazil in what was the five-times World Cup winners' first-ever match.
The match will be staged on 20 July at Estadio das Laranjeiras in Rio de Janeiro, where the original took place.
That is only one week after the 2014 World Cup concludes just four miles away at Rio's Maracana Stadium.
"We're happy to make the announcement. It hasn't been easy," Exeter City vice-chairman Julian Tagg told BBC News.
"To get to this point has taken three years of planning. We've always been desperate to get a game on to commemorate the match 100 years ago."
The two sides will wear replica kits from the game 100 years earlier, which finished in a 2-0 win for Brazil, and kick off with the original ball.
Exeter travelled to South America in 1914 for a series of games after being chosen by the Football Association as a "representative" English team.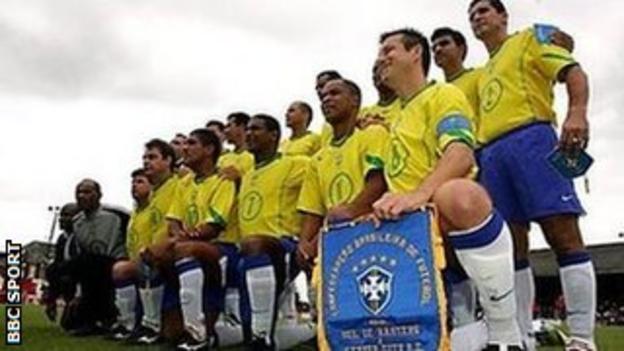 The Grecians played three matches in Brazil, winning their first two games, against an English expatriate side and a Rio team, but the final game was against a team made up of the country's best players resulted in defeat.
Fluminense, who have undertaken to finance City's trip to Brazil, will try to include "guest" players from other clubs in Brazil to try to replicate the original fixture.
It is not yet known when tickets for the fixture will go on sale, but Exeter are currently looking at potential travel packages for fans.
"We're confident there will be more than enough tickets available for Exeter fans but that's a bit of an unknown conundrum because, at this stage, nobody quite knows what the demand is like to be," said Tagg.
As to the outcome of next year's match, he added: "We don't really mind what the score is - as long as we win."