Partick Thistle enjoying life back in the big time
By Kenny Crawford
BBC Sport Scotland
Last updated on .From the section Football17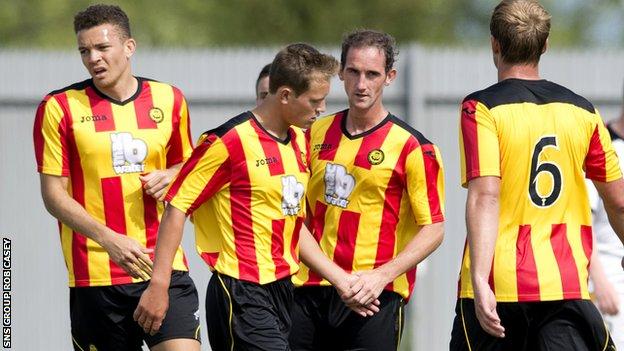 If anything sums up the phrase "Firhill for thrills", it must be the profile picture of Conrad Balatoni on the Partick Thistle club website.
There is a guy who is extremely happy, bordering on worryingly happy, to be a Jag.
But you can understand why.
For during all the usual close season football clamour of player transfers and confusing friendly results, Thistle have increasingly emitted a refreshing joy and energy that smacks of a club at which it must be pretty good fun to be involved.
It's the first time in 10 years they have been preparing for a season in the top flight and their excitement at getting this Scottish Premiership opportunity has been plain to see.
Under manager Alan Archibald, all the hubbub created during Partick's successful 'We got this' First Division title success last season seems to have snowballed during the July heat wave.
Much of this boils down to signings, sanctions and seats.
New arrivals have not only been numerous, but intriguing.
Simon Colina Dominguez was captain of the under-19 team at Barcelona, and word on the street is that team can play a bit.
The west end of Glasgow may not have been Colina's initial idea of career progression, but everyone in red, yellow and black is thrilled the Spanish midfielder is on board.
Then there's the Mexican Gabriel Rojo de la Vega Piccolo, a 23-year-old defender who's already waxing lyrical about Glasgow as a city - the lad's not daft.
So, that's a touch of European flair combined with some Latin American bite; how about a dash of African athleticism?
That's where 6ft 3in Henoc Mukendi comes in.
He's a Congolese forward and arrived at Thistle on loan from Liverpool, although he spent last season banging in one goal in 13 appearances for Northampton Town.
However, don't get the impression Archibald has gone too far in the direction of wacky, untried and untested talent, because adding the experience of goalkeeper Paul Gallacher, as well as midfielders Isaac Osbourne and Mark Kerr, brings things back towards equilibrium.
Sanctions, but not ones imposed on them, have also given Partick Thistle reason for cheer ahead of the new campaign.
The 15-point deduction that Hearts begin the season with, as a result of being placed in administration, gives Archibald's men a head-start they couldn't have dreamed of.
At the beginning of any other campaign, pundit after pundit would be naming Thistle as candidates for relegation - indeed, some still are, highlighting what an arduous task top-flight consolidation is for a promoted club.
But Partick will not want to squander the enhanced opportunity these rare circumstances have given them.
Finally, then, to seats.
Firhill has 13,079 of the things, and a large part of the buzz surrounding the club is owed to the fact that all of them are going to be available for use.
Over recent seasons, Jags fans have become accustomed to being housed only in their precious Jackie Husband stand, with visiting fans perched in the north end and the traditional main stand left largely redundant.
Not this year.
Although segregation will naturally still occur, anywhere in Firhill is fair game for supporters and a few sell-outs are surely on the cards.
But's that not all on the reclining front.
They've taken the 'professional' part of SPFL quite seriously, upgrading their dug-out to contain top of the range 'bucket' seats.
Perhaps that's why all these flair players are so keen for a piece of the Firhill action, or inaction - being out of the starting XI may become no bad thing.
Seriously, though, whatever the combination of reasons for Partick Thistle's chirpiness; it's good.
And they've got the honour of kicking the whole shooting match off against Dundee United at Firhill.
It's all been teed up nicely - Friday night football under the floodlights and in front of the TV cameras, United's Paul Paton and Chris Erskine coming back to play against the club they helped promote and Tangerines manager Jackie McNamara returning to the place he left less than amicably.
Will he get a comfy bucket seat?