Goalkeeper James Bittner joins Newport County for a month
Last updated on .From the section Newport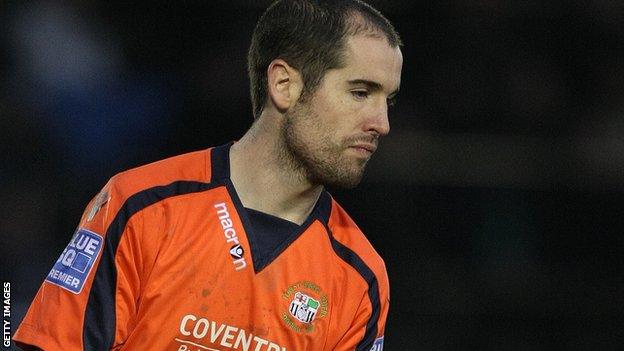 Newport County have completed the signing of goalkeeper James Bittner on a short-term deal to provide goalkeeping cover.
Bittner, who left Hereford United at the end of last season, has signed with League Two newcomers for a month.
First-choice stopper Lenny Pidgeley has missed pre-season because of personal reasons.
"We needed another goalkeeper here," Newport County manager Justin Edinburgh said.
The 31-year-old will contest the goalkeeping jersey with 19-year-old Jamie Stephens, who Newport snapped up in July after he was released by Liverpool.
"Lenny's had some personal issues and he's overcoming them now and he was back among the players [on Sunday]," Edinburgh added.
"I doubt he will be ready for the start of the season so we need two goalkeepers for the start of the season."
Newport concluded their pre-season preparations ahead of Saturday's League Two opener against Accrington with a 5-2 win over an Aston Villa XI.
Edinburgh has been pleased with his side's unbeaten pre-season campaign as they prepare for their Football League return.
"Results are irrelevant but you look at fitness, individual performances and then building that up to collective units," the former Spurs defender said.
"For a good percentage of pre-season we've done very well and I think we're in good shape and a good position going into our first league game."