Mohamed Kallon disqualified from Sierra Leone FA elections
By Mohamed Fajah Barrie
BBC Sport, Freetown
Last updated on .From the section Football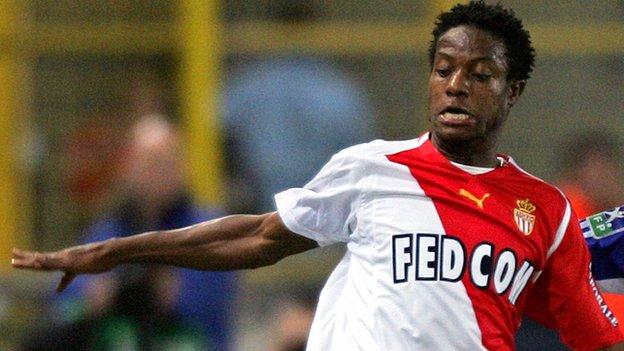 Sierra Leone legend Mohamed Kallon and two other candidates, Rodney Michael and Foday Turay, have been disqualified from contesting the Sierra Leone Football Association (SLFA) presidential election.
The SLFA Normalisation Committee has stated that the only person qualified to be a candidate for the election is Isha Johansen.
It means Johansen will be appointed unopposed in Freetown on Saturday and shall become the first female president of the SLFA.
Former Inter Milan and AS Monaco striker Kallon, 33, was disqualified for not meeting the requirement of Article 32 (4) of the SLFA Constitution.
The article states: "The members of the executive committee shall be citizens of Sierra Leone and shall have resided in Sierra Leone for a period of no less than five years prior to the congress of which they seek to be elected."
The SLFA said: "Kallon presented his passport to enable the committee verify his status. The passport presented shows that Mr Kallon had obtained a residential status and not merely a work permit in another country between 2008 and 2011.
"In addition to that, Kallon signed a one-year contract in 2010 with a Chinese Super League side, Shaanxii Chanba FC and fully honoured that contract for the stipulated period which makes him contravene Article 32(4) of the SLFA Constitution."
However, Kallon has refused to accept the decision, insisting it is politically motivated.
He said: "I'm very disappointed about the decision and I believe it was politically motivated because the Sports Minister Paul Kamara has publicly backed Isha. I know I'm qualified.
"I have given over 19 years of my life playing for Sierra Leone, spent a lot of cash on Kallon FC and helped to develop kids - more than 15 boys now have a career professional football abroad - and produced 80% of the players now playing for Leone Stars, this is how they are paying me back.
"I now know I'm not appreciated and wanted in Sierra Leone by the government as a whole. In this regard my team Kallon FC are dead. I don't want anything to do with Sierra Leone football again."
Front runner Michael and Turay were disqualified because they contravene Article 25 of the Fifa code of Ethics which deals with betting, gambling, lotteries and similar events or transaction connected with football.
Michael provides consultancy services to a local betting company whilst Turay entered into a contract with same company for a betting machine.
Both have denied any wrongdoing, stating that the article was wrongly interpreted.
Immediately after the decisions were announced, hundreds of supporters of both Kallon and Michael tried to make their way to Freetown in an attempt to get an audience with the country's President Ernest Koroma but they were denied access.
Some supporters carried placards, with one message reading: 'No Rodney, No Kallon, No football.'
Two other candidates contesting for other positions were also disqualified for their involvements with the local sports betting company.
The SLFA elections were due to have taken place a year ago but were postponed several times because of disagreements over who was eligible to stand for president.
The elections will bring to an end the tenure of an interim body set up by Fifa last December.