Barcelona to help develop African talent
Last updated on .From the section Football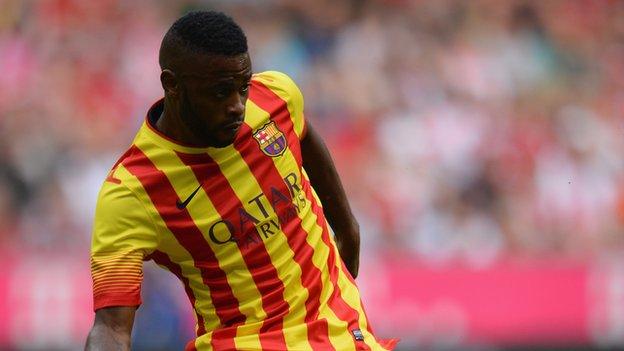 Barcelona have unveiled plans to unearth future generations of African talent which they hope can one day follow in the footsteps of Samuel Eto'o, Yaya Toure and Alex Song.
The Spanish champions have agreed to allow coaches from their world-famous La Masia academy to visit a number of southern African countries as part of a sponsorship deal with an African beverage company.
The coaches will pass on their techniques to local coaches in countries including Namibia, South Africa, Botswana, Tanzania and Zambia.
It's also hoped that the new link-up will give emerging talent the opportunity to develop in the surroundings that produced the likes of Lionel Messi, Xavi Hernandez and Andres Iniesta.
"This goes beyond just signing a sponsorship contract," Barcelona financial vice-president Javier Faus told BBC Sport.
"We know there is a lot of talent in Africa but we are happy to provide the expertise of our coaches to help the game develop in these countries.
"We are doing the same thing in Israel and Palestine this summer and are also planning to bring coaches from Africa over to La Masia to see how things are done here."
He added: "In the last 20 years most of the talent has come from west Africa but I think in the next two decades the continent will become even more important in producing players. I'm sure that in that time we will see an African team winning the World Cup."
At the last count, there were approximately 20 African players on the books at La Masia, with the majority having arrived as a result of the link-up with former Barca striker Eto'o's own foundation.
Before the Cameroon star joined the Catalans in 2004, the famous academy had not produced any players of African origin but now teenage striker Jean Marie Dongou is on the brink of making the breakthrough to the first team having starred for Barcelona's B side over the last two seasons.
But of the current first-team squad, only former Arsenal midfielder Alex Song hails from Africa with Eto'o having left for Russia in 2009, Toure for Manchester City a year later and Mali's Seydou Keita for China in 2012.
Now Barcelona are hoping the new link-up will not only provide wider commercial opportunities but a pathway for future stars to establish themselves in one of the world's biggest clubs.
"This could be a great chance for some young players to develop in the best surroundings," said Faus.
"We have a lot of fans across the world but Africa is the final frontier. We want to spend time and effort to introduce ourselves to the continent. Our willingness is to tap into that market over the next decade because we know that is something that doesn't happen overnight."