Nigeria coach Stephen Keshi wants end to bonus rows
By Oluwashina Okeleji
BBC Sport, Lagos
Last updated on .From the section Football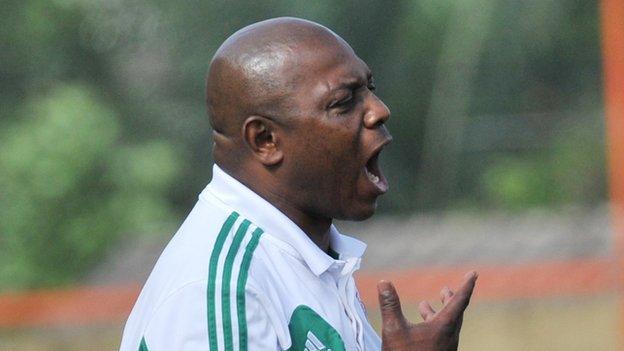 Nigeria coach Stephen Keshi has urged an investigative panel to put in place better procedures to avert any future bonus rows.
Keshi met a six-person panel that will present their findings on the row that led to the national team almost boycotting the Confederations Cup in Brazil in June.
The former Super Eagles captain says failure to provide relevant information about a change in the win bonus was partly responsible for the last episode.
"Our first objective should be to ensure this doesn't happen again," Keshi told BBC Sport.
"When I was asked about a way forward, I simply suggested to the panel that for the great benefit of everyone, information is key.
"We can pool our energies and resources together to prevent a future occurrence because our country's football should not been torn apart by a preventable bonus crisis."
Players staged a protest over unpaid bonus money promised to them after they beat Kenya 1-0 in a World Cup qualifier last month.
They wanted to be paid £6,370 ($10,000) but the cash-strapped Nigeria Football Federation (NFF), which has been forced to cut back on backroom staff of the various national teams, refused.
The Nigerian players were then offered a bonus £1,590 ($2,500) following their 1-1 draw in Namibia in another World Cup qualifier, but again the players wanted more.
Before June's drama, Nigeria's last major bonus row happened in Nairobi in 2007 when, after a friendly against Kenya, the players refused to fly to Uganda for a 2008 Nations Cup qualifier.
"It has happened in the national team before, but the panel have to do a good job to prevent it from happening again," Keshi said.
"If it is not properly handled, it will happen again and there could be another unwanted crisis.
"It is important to inform people ahead of time about a change and what is going to happen. We should stop the idea of letting it out to the public, and players reading it for the first time in the media.
"Players and officials must all be carried along in certain decisions that affect the team.
"It is not when we are far away that the NFF should come up with [bonus] decisions, because it is not good for the team and the country."
Meanwhile, Keshi has hailed his team for qualifying for the African Nations Championship finals after a 4-3 aggregate win over Ivory Coast on Saturday.
Keshi said: "This was very important for us because we've never qualified before and I'm just happy for the players.
"My thoughts are for them because they worked so hard and we pushed them so hard. And I wanted to see them there."