Hearts: 'Millions more' needed from bidders to save club
By Chris McLaughlin and Brian McLauchlin
BBC Scotland
Last updated on .From the section Football404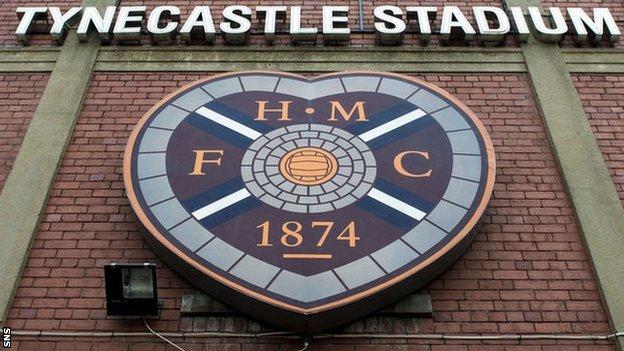 Hearts face the prospect of liquidation unless someone outstrips present offers for the club by millions, administrator Bryan Jackson has warned.
Jackson's counterpart looking after the affairs of the club's owner, Ukio Bankas, has said none of the three bids received for Hearts are acceptable.
And the bank's administrator has warned that liquidation is a possibility.
Jackson believes the bank administrator would prefer a deal to be done but has urged bidders to offer more money.
The club's administrator, BDO, has been working with three interested parties and initial indications were that the difference required to allow a deal to progress was less than £1m.
Negotiations will continue in an attempt to find a solution and Jackson said: "I don't know the exact shortfall, but there is quite a gap still to go.
"It could be coming into millions. It is not millions as in another five million, I wouldn't have thought, so it's hard to say can the bidders get there.
"I am of the opinion that they would be prepared to liquidate if they felt that was in the best interests of their creditors.
"However, having said that, I still think they are sympathetic to the club being sold as a football club and, in some ways, it might be quicker and easier for them to realise the asset by going down that route."
The Edinburgh club have been in administration since 19 June.
Hearts owe £10m to UBIG, which owns 50% of the club's shares, but these had been frozen after the bank it also owned entered an insolvency process with debts of around £380m.
Supporters' consortium the Foundation of Hearts, HMFC Limited and Five Stars Football Limited all provided proof of funding on Wednesday.
However, negotiations will only take place with two of the interested groups after the HMFC Limited proposal was discarded by the administrator.
Hearts have debts of £25m - owed to companies formerly owned by Vladimir Romanov, who first invested in the club in 2005.
Ukio Bankas, which is also in the hands of an administrator, is owed £15m and Tynecastle Stadium is held as security for the liability.
The Lithuanian bank has a 29.9% shareholding in Hearts.
The administrator in charge of Ukio Bankas, Gintaras Adomonis, said: "I can repeat that we are doing everything we can to save the club functioning.
"However, I am obliged to protect solely the interests of Ukio Bankas and its creditors.
"If no feasible offer with terms and conditions acceptable to Ukio Bankas creditors is achieved, Ukio Bankas will remain with the only solution - liquidation of Hearts of Midlothian Plc and enforcement of the standard security over Tynecastle stadium.
"I sincerely hope this is the way of things we still can avoid.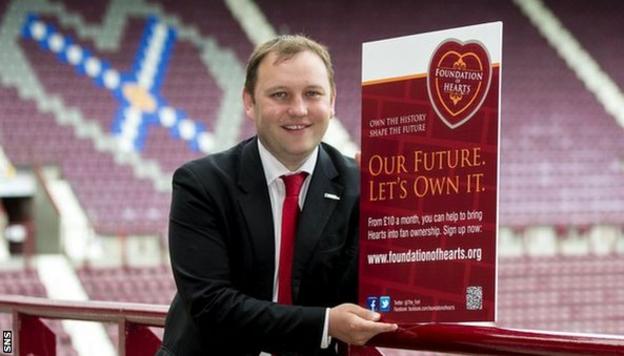 "Hearts' administrator, BDO, received three offers from investors, none of which were acceptable. Last week, the potential investors presented improved offers.
"However, the main creditor's expectations were still not met. Ukio Bankas approved the administrator's proposal to continue negotiations with the two potential investors.
"The third investor's - HMFC Limited - offer was rejected."
The Foundation of Hearts said it was very much "business as usual".
Ian Murray MP, independent chair of the FOH, said: "Our bid team, working on behalf of the Foundation of Hearts, continues to negotiate on the points of the bid submitted on our behalf to BDO.
"Meetings are scheduled for this week and have been since our revised bid and proof of funding was submitted last Wednesday, as requested. It's very much business as usual.
"We remain hopeful that we can demonstrate to the club's creditors that our proposal provides the strongest return and carries the lowest risk, in short, by far the best solution."