Gareth Bale would take Madrid move in his stride - John Hartson
Last updated on .From the section Football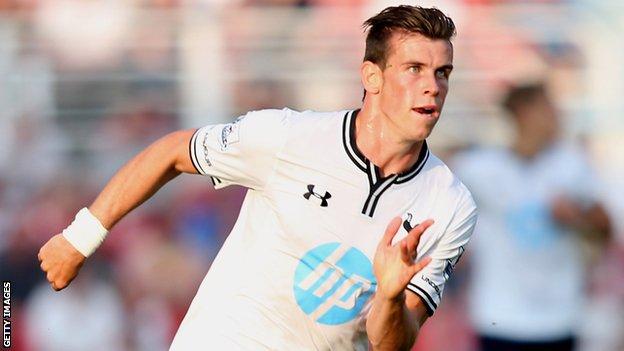 John Hartson believes Tottenham star Gareth Bale would take a move to Real Madrid in his stride, if it were to happen.
National assistant manager Hartson told BBC Wales the star winger has the temperament to handle the pressure.
"It wouldn't be an issue for Gareth. He's very level headed, his feet are firmly on the ground," he said.
"I get to see him close up, obviously, working with him with the Welsh national team. He works like all the other players, he gets his head down.
"If he was to go - I'm not saying that he's going to go - I'm sure he will deal with everything.
"He's got a great family. He doesn't come with a big entourage.
"He's got his agent, he's got his advisers and he's a really down-to-earth, level-headed lad. Whatever Gareth does, I'm sure he would have thought long and hard about it."
Cardiff-born Bale joined Tottenham from Southampton in May 2007 and signed a new four-year contract in June 2012.
He went on to enjoy his most successful season for the club in 2012-13, scoring 26 goals and being named Premier League player of the year and young player of the year.
Spurs boss Andre Villas-Boas has insisted Bale is not for sale and says talks about a new deal are ongoing.
Spanish daily newspaper Marca claims Tottenham are demanding a fee of 145m euros (£125m).
Former Spurs manager David Pleat, who told BBC Sport he felt Bale was "too young to move", thinks it will take £100m to prise the player from White Hart Lane.
Real Madrid are yet to submit a formal offer for Bale, but 38-year-old Hartson says he is not surprised by the interest, although he admits he thinks the figures being quoted are "absurd".
"He's a phenomenal player, very explosive, very quick, clever and he's got everything as a footballer that you require so it doesn't surprise me," said the former Celtic striker, capped 51 times by Wales.
"That's where we are in the current world market - £95m or £100m is absolutely absurd.
"Cristiano Ronaldo went for £80m three seasons ago. Luis Suarez, if he was to leave Liverpool, would probably look for £50m for starters.
"It's crazy money, but that's where we are."
George Burley, who gave Bale his first-team debut at Southampton in April 2006, said it was hard to put a price tag on the 24-year-old.
"At the time, we had a lot of good young players thanks to the youth policy, but Gareth always showed the biggest promise," Burley told the BBC's World Service.
"Last season was incredible, playing in different positions and scoring some of the best goals you'll ever see. He wants to keep pushing his career forward. Who's to say what's he's worth?"