Richie Wellens: Leicester City ready for Premier League
Last updated on .From the section Football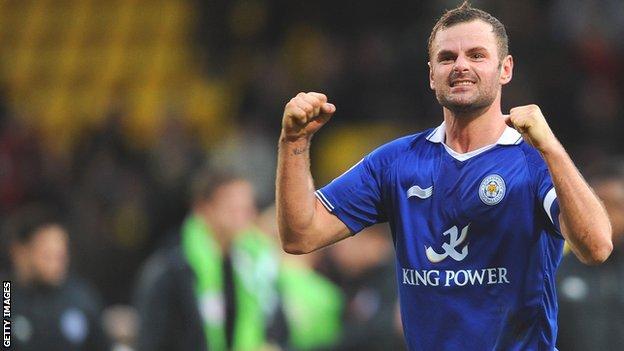 Richie Wellens is convinced Leicester City are ideally equipped to secure and sustain Premier League football.
Wellens, who is mulling over a deal with Rovers and interest from "four or five other" clubs, told BBC Radio Leicester: "The infrastructure at Leicester is Premier League standard.
"Everything is in place. It's geared up to go into the Premier League."
Wellens, who played 149 games for the club and was player of the season in 2011, added: "The stadium and training facilities are fantastic.
"It's a great base that the club has got and the fans are terrific. I remember playing Forest away and they had 9,000 away fans."
The former Doncaster player joined the Foxes in July 2009 and was a key figure under Nigel Pearson during the current manager's first stint in charge.
He played 149 games was player of the season in 2011, but suffered a knee ligament injury in 2012 which ruled him out for six months and spent time on loan with Ipswich Town last season.
However, despite a tough final 12 months at the club, Wellens enjoyed his time there - particularly when he first arrived, and the brief period playing for Sven-Goran Eriksson.
"Four years at any club nowadays is pretty decent," Wellens said.
"I fully enjoyed my time there. Since the injury it was pretty difficult but it's a fantastic football club and everything is in place to move forward.
"The first season was great; it wasn't a great side in terms of ability and flair but it was a gritty team that was able to dig in and could keep clean sheets, go anywhere and win.
"For a spell under Sven everyone at the club thought it was going to take off. We went on a great run, got some great results, playing good attacking football. To play under someone like Sven was great.
"I have a lot of time for Nigel and a lot of respect for Nigel and his staff.
"He was great for me; he first signed me and we had a great season. Since he came back he had too many players and he's had to do what he's had to do. I wish him every success.
"Sometimes he can be a nightmare because he comes in like a bear with a sore head when he's lost and things haven't gone our way. He can mope about - just the same as players really.
"At other times he's bright and bubbly and he likes a laugh and a joke. But he's a manager who knows what he's doing; he's not stupid."
And Wellens hopes to get his future resolved soon.
"I have one contract on offer and four or five where I am waiting to see what way it will go," he explained.
"I will wait until the middle of next week and see what materialises. I still love the game and going into training.
"It's a big challenge for me because I basically missed the whole of last season. I want to get as fit as I can and get as many games as I can and get back to the level I want to play at."