Sierra Leone clubs boycott league in support of Kallon
By Mohamed Fajah Barrie
BBC Sport, Freetown
Last updated on .From the section Football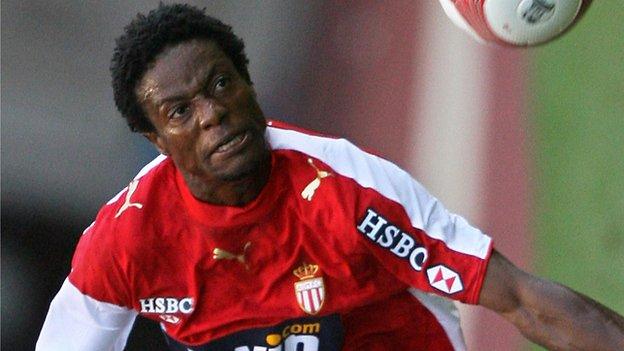 Premier League clubs in Sierra Leone have decided to boycott the country's top-flight league in protest against the disqualification of Mohamed Kallon and four other candidates from the Sierra Leone Football Association (SLFA) leadership elections in Freetown on Saturday.
Ten out of the 14 Premier League clubs stated in a letter to the Premier League Board (PLB) that "with immediate effect, they'll no longer honour any fixture of the ongoing league because they considered the decision to disqualify five contestants as unfair and erroneous".
The clubs are Diamond Stars, Gem Stars, Kambui Eagles, Old Edwardians FC, FC Kallon, Bo Rangers, Ports Authority FC, Mighty Blackpool, Central Parade FC, and Freetown City FC.
However, it is believed that the decision for Diamond Stars to boycott the league was not unanimously taken and may be reversed.
But other clubs have started acting on their decision - the match between Bo Rangers and Mighty Blackpool didn't take place on Monday because both clubs failed to honour the fixture.
Former Inter Milan and AS Monaco striker Kallon was ruled out from taking part in the presidential race on the grounds that he didn't meet the requirement of Article 32 (4) of the SLFA Constitution.
The article states: "The members of the executive committee shall be citizens of Sierra Leone and shall have resided in Sierra Leone for a period of no less than five years prior to the congress of which they seek to be elected."
However, Kallon has refused to accept the decision, insisting it is politically motivated and that he has no doubt that he is qualified.
The other two candidates to be disqualified from the presidential race are Rodney Michael and Foday Turay, both because they contravene Article 25 of the Fifa code of Ethics which deals with betting, gambling, lotteries and similar events or transaction connected with football.
The pair have denied any wrongdoing, stating that the article was wrongly interpreted and are they insist they are ready to clear their names.
Supporters of both Kallon and Michael held a peaceful protest in front of State House in Freetown on Monday to express their dissatisfaction over the decision to ban their candidates.
Sierra Leone's President Ernest Bai Koroma had a meeting with Kallon and the group and promised to get back to them.
The former Leone Stars captain told BBC Sport after his meeting with the President Koroma that he was confident that they decision will be reversed and he will be reinstated in the contest.
Idrissa Taralley and John Dissa were candidates for other positions but they have also been disqualified for their links with the local sports betting company. They, too, have cried foul.
Saturday's elections will take place after several postponements and will be conducted by a Normalisation Committee, which was set up in December by football's world governing body Fifa to run the day-to-day affairs of the SLFA.
Isha Johansen is now expected to be appointed unopposed, to become the first female president of the SLFA.