Thurrock FC fail in FA and Isthmian League challenge
Last updated on .From the section Football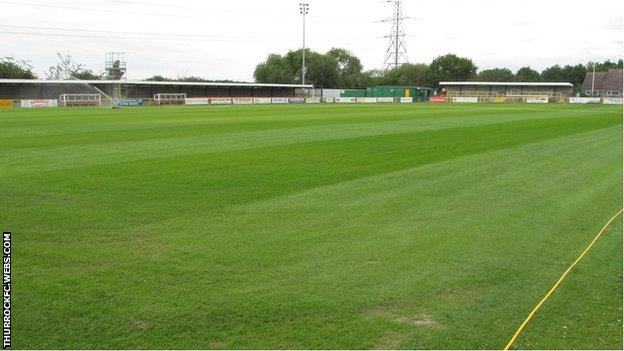 Thurrock have failed in their attempt to overturn a three-point penalty and subsequent relegation in a series of events rooted in an unpaid £16 fine.
Thurrock were punished for fielding Joel Barnett, a player ineligible after not paying the fine two years ago.
The three-point penalty saw the Essex side relegated from the Isthmian Premier to Division One North.
A challenge against the the Football Association and Isthmian League has been rejected.
Thurrock chairman Tommy South told BBC Essex: "I'm devastated, which is why I decided to fight this all the way. We've been badly let down by various associations.
"It's probably cost £12,500 to fight this but I felt it was worth it as we haven't done anything wrong.
"I've also lost a few sponsors and our crowds will go down, so we'll probably be £35,000 to £40,000 short next season."
The fine was owed by Barnett to a local Yorkshire FA after Wakefield Sunday side Wilton folded and their outstanding fines were shared among the staff.
"We did everything we could when we signed the player," added South.
"It wasn't flagged up on the FA's database, even where he was sent off for Tilbury he served his three-match ban and came back to play again."
Thurrock managed to secure safety in the Isthmian Premier Division by a single point last season, only to be told they would be docked three - almost a month after the season had ended.
The Fleet failed in appeals against the decision - with the Isthmian League and the FA - and suggested they would take their case to the European Court of Arbitration for Sport (CAS).
But, with that process time consuming and likely to jeopardise the start of the league's season, Thurrock opted to issue a notice of arbitration, which was assessed by an independent panel and rejected.
South had threatened to close the club if they did not get the decision overturned.
"I have talked to my manager Mark Stimson and we will carry on," he said.
"I can't go out of football this way. There's probably some people with smiles on their faces because they've beaten us, but I feel it was worth fighting."