Coventry City: Sky Blues creditors' meeting adjourned again
Last updated on .From the section Football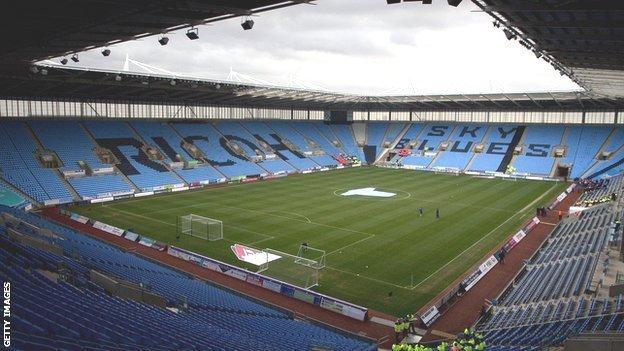 A creditors' meeting which could see Coventry City come out of administration has been adjourned for the final time until Friday 2 August.
But one creditor, the Ricoh Arena's operators Arena Coventry Limited, requested a final adjournment.
This meeting will be one day before Coventry are set to start their season.
A brief statement from Coventry City FC Ltd's joint-administrator Paul Appleton read: "At today's reconvened creditors' meeting, ACL put a resolution to the meeting that there should be one final adjournment.
"That resolution was passed in accordance with the Insolvency Rules 1986. Accordingly, the meeting was adjourned to Friday August 2 at 10am."
The meeting in London was the second creditors' meeting to be adjourned after a CVA was not set up in the first meeting last week.
It now means the meeting which could decide the club's future will take place the day before Steven Pressley's side - who are still under a transfer embargo - are due to travel to Crawley to begin their League One campaign.
And the threat remains that the Sky Blues, deducted 10 points for going into administration last season, could still suffer a similar punishment.
They were deducted those points by the Football League following a High Court hearing, but despite recently being they are still in administration.
And following their year-long dispute with ACL, the club have agreed a groundshare at Northampton Town's Sixfields Stadium for the next three seasons.
Last week, the club released a statement saying they hoped to finalise a deal to build a new stadium "within six miles" of the city centre.
Meanwhile, hours before the adjournment, Joy Seppala, boss of Sisu, who own Coventry City Holdings Ltd, the part of the club not in administration, released a statement in response to an open letter from Coventry City Council leader Ann Lucas who asked for face-to-face talks to try and resolve the issue, via the club's website.
"We see no reason why the CVA cannot be accepted as soon as possible so that the club can exit administration and focus on winning its upcoming matches," the statement said.
"Accepting the CVA will also enable ACL to recover a substantial sum of money. If ACL wish to reject the CVA, they will be forcing the club into liquidation, under which they will recover no money and expose the club to the risk of a severe points deduction.
"Whether ACL intends to accept the CVA or force the club into liquidation, they should make that decision now.
"Continued delaying and stalling just leaves the club in limbo, unable to build up the squad, which is unfair on Steven Pressley, the players and the fans."