St Johnstone prepared for small support away to FC Minsk
Last updated on .From the section Football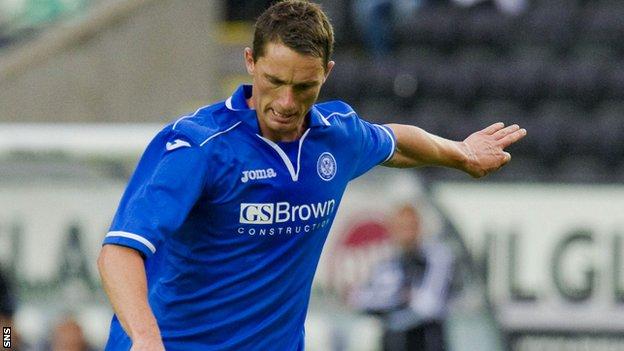 St Johnstone midfielder Gary McDonald believes a small crowd could be an advantage when they face FC Minsk.
And, with the first leg shifted to Grodno, very few home fans are expected to show up.
"We're not expecting a big crowd over there and that will play into our hands," said McDonald. "It did in the first leg of the Rosenborg game."
Around 500 Saints fans were in Trondheim as Tommy Wright's men stunned Norwegian league leaders Rosenborg in the first leg of the second qualifying round with a 1-0 win and almost 8,000 witnessed the return leg, where a 1-1 draw was enough to seal their progress.
"It wasn't that big a crowd over there so it wasn't that intimidating," added McDonald. "On the other hand, our fans were great - they were more vocal than theirs.
"In many ways that felt like a home game but I don't know with the visa situation if our fans will be able to get over this time. It's a shame because we want to give them the reward of a little trip as well."
Very few Saints followers will be in Grodno - 140 miles away from the capital - which is being used while Minsk's Dinamo Stadium is renovated.
A five-day clearing period required to obtain travel documents and sky-high airline fares have made it impossible for them to join their team in eastern Europe.
Scottish sports journalists and photographers have also been caught out and will miss the match.
"Without a doubt the fans make a difference and can act like a 12th man," said McDonald.
"Our fans outsang the Norwegian fans by a mile in the first leg and in Perth they were brilliant. It was a great atmosphere and made such a difference. It gave us all an extra five per cent in our performances.
"But times are hard right now and the Rosenborg trip was quite expensive by all accounts, so we can't expect the fans to fork out again to get to Belarus."
The one-week turnaround from the Rosenborg victory and the visa delays have prevented manager Wright from flying out to scout Minsk.
But he has sourced footage of their opponents from Mark Miller, the boss of Maltese outfit Valletta, who were beaten by Minsk in the previous round.
"I don't know what to expect from them to be honest," McDonald continued.
"The manager has got some videos for us to watch and we'll get a wee look at them.
"That is important in these European ties. When you face teams in Scotland, you've played them each three and four times a season, so you know them inside-out.
"But we have never seen these guys from Minsk before so we'll be going into the unknown a little. Any little help we can get with the video helps and means we're not going in with our eyes shut."