Celtic ready to face on-loan Mo Bangura against Elfsborg
Last updated on .From the section Celtic215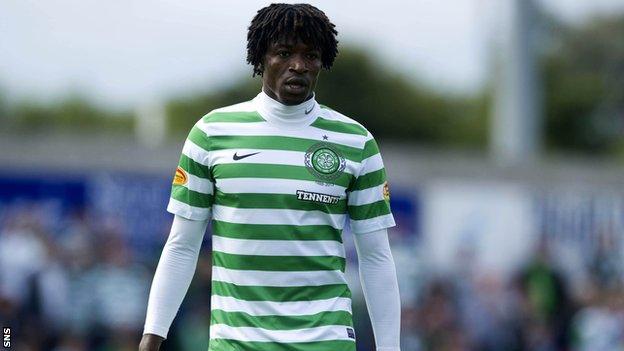 Manager Neil Lennon is preparing to face striker Mo Bangura when Celtic host Elfsborg on Wednesday.
The 24-year-old is on loan from Celtic but there is no agreement to prevent him from playing in the Champions League qualifier.
Lennon said: "We have made our feelings pretty clear but we have to respect Elfsborg's decision.
"I am trying to do what's best for Celtic and the Elfsborg manager is trying to do what's best for Elfsborg."
On arrival in Glasgow, Elfsborg boss Jorgen Lennartsson told BBC Scotland that Bangura "is under our umbrella this year".
"We work with him every day, we pay his salary," added Lennartsson. "His job is to play football for Elfsborg. We will select the team which we think has the best chance to win the game."
Bangura joined Celtic from AIK for £2.2m in 2011, signing a four-year contract, but the player from Sierra Leone made only 16 appearances, all but three from the bench, and failed to score.
He returned to AIK on loan in August and then, in January, switched to fellow Swedish side Elfsborg.
"If he plays, he plays and we are preparing for it as if he is playing," added Lennon.
"You would probably need to ask him how he is feeling more than me. There is a good relationship between the two clubs, I just think it puts Mo in a very difficult position.
"I wouldn't like to be in that position myself, put it that way."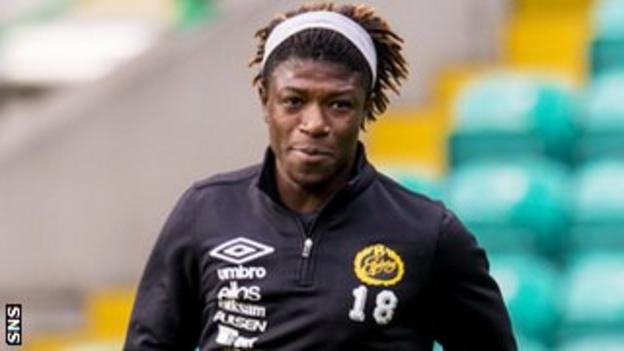 Lennartsson did admit the situation has been playing on Bangura's mind, saying: "He has felt the impact a little but he is a cool guy.
"The main thing is that he is a professional footballer. This is his work. He's not a carpenter, he's not a bus driver and at the moment he plays for our club.
"The club has invested a lot of money to try and reach the Champions League, one of the investments was for a quality striker and we had good cooperation with Celtic.
"Scottish supporters have respect for their opponents, especially when they are abroad, so I don't worry about any problems."
Seventeen games into their season, Elfsborg are fifth in the Allsvenskan, nine points behind leaders Helsingborgs, who Celtic eliminated in Champions League qualifying last year.
"I am sure Mo will know plenty about our players, but we have plenty of information on Elfsborg," added Lennon.
"I watched them at the weekend and Johan [Mjallby, Celtic's Swedish assistant manager] knows Swedish football very well so we will be well prepared for them."
Celtic midfielder Joe Ledley was quoted as saying that if Bangura "scored the winner and knocked us out of the Champions League, then it would be difficult for him to come back".
Lennon acknowledged the danger.
"We are talking hypothetically, so we will cross that bridge if and when we come to it," he said. "It is a situation that doesn't occur very much in football but we will deal with as best we can."
Asked if Bangura would take a penalty is the need arose, Lennartsson replied: "We trust the player 110%, but he missed a penalty in the last game and we have some other guys who are good at penalties."