Scottish Premiership: Season ticket sales up at majority of clubs

By Chris McLaughlin
Senior Football Reporter, BBC Scotland
Last updated on .From the section Football407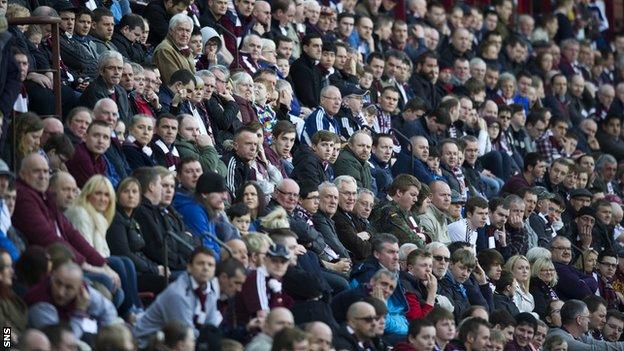 More than half of the clubs in the new Scottish Premiership have experienced a rise in season ticket sales.
And only two of the 12 clubs have reported a drop in numbers compared to the same period last year.
Seven top-flight outfits say figures have improved, with three clubs telling BBC Scotland their business is on a par with last summer.
The new season kicks off on Friday evening, with the league still searching for a major sponsor.
The Scottish Premier League and Scottish Football League have merged to form a single governing body for all 42 senior clubs; the Scottish Professional Football League.
This followed a turbulent period for the game in Scotland, with high-profile squabbles over the restructuring process.
Hearts will begin the new top-flight campaign with a deduction of 15 points after entering administration in June, while Dunfermline, who will play in the third tier, are emerging from the same insolvency event, having called in the administrators in March.
Last season the average attendance in the Scottish top flight fell by 28%, from 13,855 to 10,020, although that figure was skewed by Rangers playing their football in the Scottish Third Division.
Overall in 2012-13 six of the clubs saw attendances fall, while five had larger crowds and one remained the same.
But the BBC Scotland survey found a more positive, less mixed picture for the coming season.
One top-flight chairman told BBC Scotland: "I think the stats reflect the fact that clubs are now having to reach out to fans and work for their support like never before.
"Recent years have been a wake up call for us all. We have to listen to what the fans want and be seen to be listening to their needs."
SPFL chief executive Neil Doncaster points to Scotland enjoying the highest crowds per capita in Europe and is confident the league changes will provide a boost for domestic football.
"There have been some difficult times but I think at times we do beat up on ourselves a bit too much," he told BBC Scotland.
"I think there are real reasons for optimism. Clubs want to be part of positive change going forward.
"They have put aside vested self-interest in the short-term and created something that I believe will benefit the game.
"It's hard to argue with play-offs, it's hard to argue with enhanced financial distribution towards the Championship so, for many reasons, I think we will see a better product on the pitch.
"But over the longer term it's got to be about developing more and better Scottish players."
On the search for a sponsor, Doncaster added: "The organisation has only existed for three weeks.
"Clarity and certainty are what sponsors need above all, so we've now created that certainty and we are in dialogue with a number of people.
"I'm certainly confident, given the profile the Scottish game has and the positivity around, we will be attractive to a number of potential sponsors and other partners."