Motherwell manager Stuart McCall backs regional Europa League
Last updated on .From the section Motherwell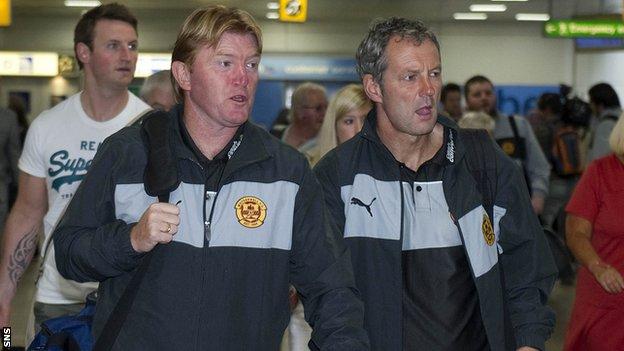 Motherwell manager Stuart McCall believes the Europa League should be regionalised to minimise travel costs for smaller clubs.
The Fir Park side travel to Russia to face Kuban Krasnodar for next Thursday's third qualifying round second leg.
St Johnstone have had a similar trip to Belarus for their tie with Minsk.
"To be having to charter planes, it's going to cost more than we're going to receive from the ties," said McCall.
"Something that's been put forward is regionalising. Certainly, in the early stages of the Europa League, it makes sense.
"We just have to get on with it, it's not something we're complaining about.
"We could have had a better draw and I'm sure they think they could have had a better draw.
"I'll just concentrate on the football side of it, but it is a point that we'll possibly be losing money.
"It's a hard job to get into the next leg and get some more."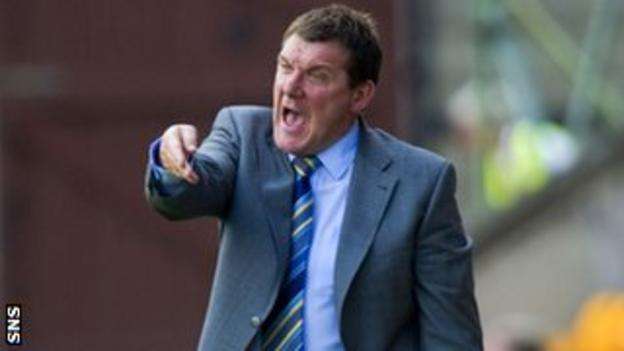 St Johnstone manager Tommy Wright agrees with McCall's concerns and believes that small clubs are being "financially punished" by long-haul Europa League trips.
The McDiarmid men flew out to Belarus on Wednesday for Thursday's first leg against Minsk in the city of Grodno, 140 miles west of the former Soviet state's capital, while Minsk's Dinamo Stadium is redeveloped.
Saints chairman Steve Brown has been forced to pay out a £4,500 bill to cover the cost of fast-tracked visas for his squad, while a larger sum will be due after the club had to charter its own plane and then pay to keep the tiny Grodno Airport open until after the game so they can return home.
The winner of the tie will be handed £86,000 but profits from the match will be slim.
"I know from my time in the Irish League some of the trips that part-time clubs are asked to make and financially it was costly," said Wright.
"Getting into Europe should be looked upon as a reward for doing well. But it's as if you're being financially punished because you get some horrendous trips.
"A lot of the time there is no chance of going through either, because of the clubs you are up against.
"So I do agree with Stuart, it should be regionalised. But then again, we only work in the game, we don't run it."
Saints progressed to the third qualifying round after beating Norwegian side Rosenborg on aggregate.
Around 400 St Johnstone fans made the trip to Trondheim for the first leg with around 8,000 attending the home leg.
However, a second long journey in the space of a fortnight and a narrow five-day period to arrange visas has limited the club's travelling support to a small group.
In spite of the complexities of making it to Grodno, Wright insists it has not dampened his enthusiasm for the tie.
"For the players and the staff, these things don't affect us," he added.
"Would all the hassle it put me off getting to this stage again? No. It might put the chairman off but not me.
"There is a cost to this tournament and it is quite evident that the Europa League isn't the gravy train that the Champions League is. Not at this stage anyway.
"As long as the club does not lose money then it is something you want to be involved in. If we get a good result out there then hopefully we will get 8,000 or more again at McDiarmid for the next leg and benefit financially from that.
"We want to be in the competition for as long as possible and it's important for our club and Scottish football that we do."