Aidy Boothroyd wants 'different' style for Northampton
Last updated on .From the section Northampton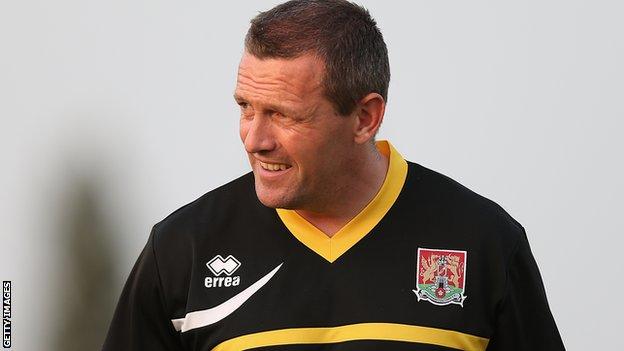 Northampton Town manager Aidy Boothroyd says they now have the players to add more variety to their style of play.
The Cobblers beat Leicester City 2-1 in their final pre-season game.
And Boothroyd told BBC Radio Northampton: "I'm not a purist, but I do believe in good attacking football. I think we've got variety now.
"I'm not going to start saying you'll see Barcelona at Sixfields, but certainly we are looking to play a different game."
He added: "What we've got is players who can handle a ball.
"That's not to say the ones before couldn't, but these are a little bit better than anything I've ever had, particularly in the midfield."
Northampton reached last season's League Two play-off final despite recording only four away wins, but were easily beaten at Wembley by Bradford.
"I can't do anything about people's perceptions," said Boothroyd.
"We think the grass is greener over the side of the channel and their way is the best way to play. But I think the English way is the best way to play, as long as we realise it's about coming up with a strategy and a structure.
"I like penetrative football, whether it be on the floor or in the air."
Boothroyd is still looking to make additions to his squad before the trip to York City on Saturday.
Seven trialists played against Leicester, including ex-Hull midfielder Danny Emerton and former Southend player Michael Spillane.
"Danny was terrific. I was very impressed with him," said Boothroyd.
"Danny and the other boys here have done themselves no harm at all.
"I've known Michael from when he was an Under-13 at Norwich, and he's not been sorted out yet, which I'm amazed at.
"I'm amazed at some of the players that are still out there that haven't been picked up yet. He was excellent.
"I'm going to have a think about all the guys we had on trial on Wednesday. I'll make some calls and then hopefully, by Thursday, we'll have another couple in."
Northampton are still looking for a striker to replace Adebayo Akinfenwa's goals and cover Alex Nicholls' long-term absence, but defender David Artell is said to be seeking a move away.
"We know who [our target striker] is and we're going to have a crack at it," said Boothroyd.
"Dave is wanting to get back up north. It would suit both parties if Dave went back up north for family reasons.
"But he's a terrific professional and at this stage he's available and ready. If he's called upon he will be there. I've not had a minute's problem with him."