Administrator reveals level of Hearts' debt
Last updated on .From the section Football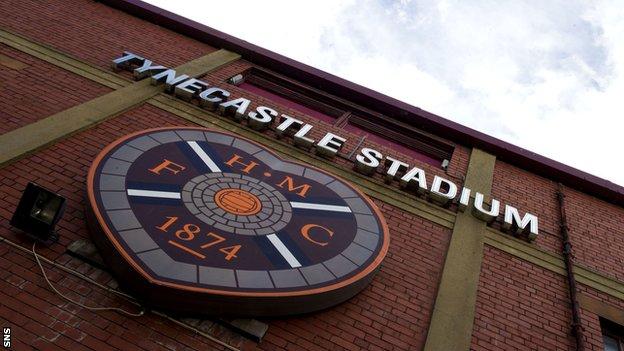 Hearts' unsecured creditors are likely to receive nothing in the event of an exit from administration via a company voluntary arrangement [CVA].
Total claims by club creditors amount to £28.4m, the bulk of which is owed to the collapsed Lithuanian companies of former owner Vladimir Romanov.
Ukio Bankas, which is owed £15.5m, holds Tynecastle Stadium as security against its debt.
And the value of the property is less than that amount.
The "book value" of the stadium from Hearts' statutory accounts in 2012 is listed at more than £13m.
The administrator has since commissioned a revaluation of Tynecastle but has not released details "so as not to prejudice the current sale" of the Edinburgh club.
BDO does say that a "nil value" has been placed on the leasehold interest Hearts have on their training complex at Riccarton, Herriot Watt University.
An initial creditors meeting will take place on 12 August, the day after the first Edinburgh derby of the new season.
Shareholders Ukio Bankas and UBIG are owed around £24m of the debt, making an exit via a CVA dependent on the approval of administrators acting on their behalf.
The administrator for Ukio Bankas has already dismissed the ongoing bids for the club as unacceptable.
In the report, distributed to all creditors, BDO states that rescuing Hearts through a CVA is its first objective.
A second option is listed as "a better result than liquidation", with winding up the club and realising property values the last resort.
Hearts' debt to HM Revenue & Customs now stands at close to £1.9m, with Edinburgh Council owed more than £90,000, Big Hearts Community Trust (£34,000) and the Scottish Police Authority (£18,500).
The Scottish Football Association, which is owed £5,500, is almost certain to insist that any new owner of the club inherits the "football debt".
Money owed in wage arrears combined with cash for players made redundant and fees outstanding to Liverpool, Rangers, Ayr United, Kaunas, Musselburgh Athletic, Livingston, Stenhousemuir and Musselburgh Athletic totals £535,000.
Administrators fees for the running of Hearts have topped £227,000 in the first six weeks, with BDO saying they will not take any payment until it is agreed with those representing Ukio Bankas and UBIG.
BDO has recorded a trading surplus of £958,000 since taking over on 20 June, the vast majority coming from season-ticket sales.
The administrator also secured a £100,000 compensation fee for Arvydas Novikovas, who joined German club Erzgebirge Aue, while £48,000 in donations has been ring-fenced.
Meanwhile, BDO will attend a hearing with the Scottish FA on Thursday, when additional sanctions for Hearts' insolvency may be imposed.