Tottenham's Gareth Bale has Real Madrid 'quality' - Michael Laudrup
Last updated on .From the section Football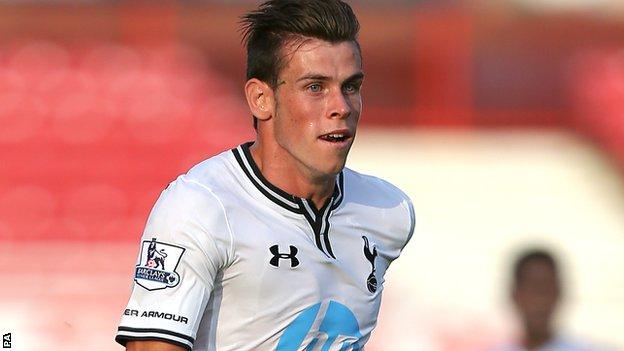 Swansea manager Michael Laudrup believes Gareth Bale has the quality to play for Real Madrid but says he would face pressure to win trophies.
"It's about having quality as a player as well as coping with that pressure. Not everyone can do that," said ex-Real midfielder Laudrup.
"For sure he has the technical ability to play there. He's a great player."
Bale reported to Tottenham's training ground on Wednesday morning, undergoing treatment on the leg injury which forced him to miss Spurs's last two pre-season matches.
Real Madrid coach Zinedine Zidane, a Champions League winner during his time at the Bernabeu, says Tottenham should allow Bale to speak to the Spanish giants regarding a potential transfer.
Zidane also said Madrid would not give up the chase for the Cardiff-born player, who joined Spurs from Southampton in May 2007 and signed a new four-year contract in June 2012.
"I've read a lot of things in the papers here and in Spain as well. There is huge interest in him," Laudrup added.
"It's a massive club. I know there are three or four clubs who say they are the biggest club in the world but Madrid is definitely one of those.
"Tottenham is a big club as well but Madrid is just that step more in every aspect.
"They've won the Champions League nine times and I don't know how many league titles, [with] 90,000 there every home game and a lot of pressure.
"There's some quite big numbers we're reading about in the papers and if they are true maybe in the end he will go."
Laudrup, a European Cup winner with Real's Spanish rivals Barcelona in 1992, says the Champions League is a big lure for players such as Bale.
"The big players want to play on the highest stage, and that is with a top club to try and win the Champions League and play semi-finals and finals," Laudrup said.
"There are those six to 10 clubs with the potential to play those finals and obviously Real Madrid is one of them
"When you hear the music of the Champions League and if you could go in and play a final, it's just great.
"Of course first you have to be at a club participating in the competition and then you have to have a strong enough team to go to the final."