Liverpool must keep Luis Suarez says captain Steven Gerrard
Last updated on .From the section Liverpool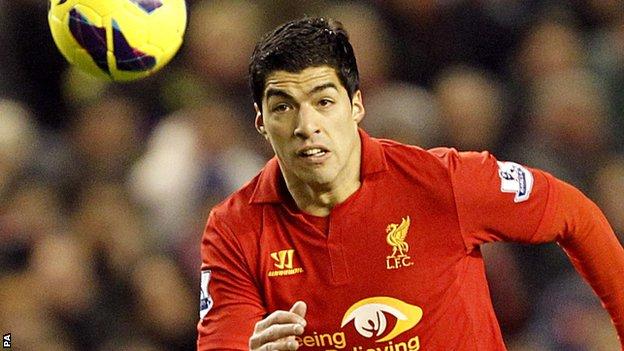 Liverpool captain Steven Gerrard says the club must hold on to Luis Suarez if they want to be successful this season.
Gerrard also said he hoped Liverpool would not sell Suarez to Arsenal but that he would understand if he were to go abroad to Real Madrid or Barcelona.
"I've spoken to Luis loads and of course I'm trying to get him to stay," Gerrard told the Liverpool Echo.
"If we lose him then the challenge becomes even more difficult for Liverpool. It's that simple.
"If we get the couple of marquee signings we need and keep Luis that will give me confidence that we can compete. Keeping Luis could be our best signing of the summer."
Suarez, who scored 30 goals in 44 appearances for Liverpool last season, wants to leave Anfield to play for a Champions League club despite only signing a new long-term deal last summer.
Speculation has grown about Suarez's future since he was given a 10-game ban at the end of April for biting Chelsea defender Branislav Ivanovic's arm last season.
The striker, who joined Liverpool from Ajax in January 2011 in a £22.7m deal, still has to serve six games of that suspension.
The Uruguayan made his first appearance since the Ivanovic incident last week in Liverpool's 2-0 win over Melbourne Victory.
The Reds have turned down two offers from Arsenal so far and Gerrard hopes that remains the policy.
"If he goes to Arsenal, it obviously makes our season that bit more difficult," he added. "From the club's point of view it doesn't make sense at all, no matter how much money is put on the table.
"If he was to go abroad to a Real Madrid or Barcelona I would totally understand it. He's a South American and from a family point of view, it's where they all want to be.
"If I was Luis I would wait for one of those two clubs because I think he's good enough to play for either of them."