Portsmouth chief Mark Catlin hopeful of Jed Wallace stay
Last updated on .From the section Portsmouth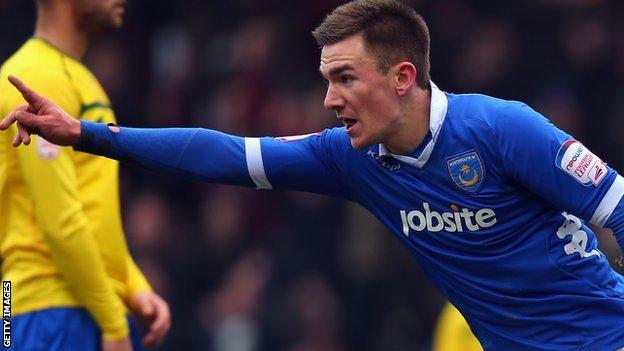 Portsmouth chief executive Mark Catlin says highly-rated young midfielder Jed Wallace has hinted that he wants to stay at Fratton Park.
The 19-year-old is out of contract next summer and has been watched by a number of clubs.
But speaking at the BBC Radio Solent Pompey Fans Forum on Wednesday, Catlin said he was hopeful of keeping Wallace beyond the end of this transfer window.
"Jed has expressed a desire to stay," said Catlin.
Catlin added: "Two weeks ago, he said he wanted to speak to his agent.
"Jed is a confident individual, not only is he confident in his own ability but he is confident enough to tell his agent what he wants and does not get told what to do.
"The next opportunity we get with Jed, which will be in a couple of weeks when the season starts, we will be making Jed a formal offer and I hope he will take it positively and sign a new contract."
Catlin admitted that despite the new offer, the club, who were recently taken over by the Pompey Supporters' Trust, were restricted in the amount they could offer the midfielder and because of this he could still leave.
However, he said they would be protected financially in the case of a tribunal should Wallace leave Fratton Park.
"Jed has got less than a year left on his contract, so we've got to be wary of that," Catlin told BBC Radio Solent.
"I'm relatively confident that if, god forbid, Jed doesn't sign a new contract, because of his age you go to a tribunal, and the offer we are going to be talking to him about would stand us in good stead because it shows how much we valued him as a player.
"You can't force a player to stay at a football club and we have build this squad on a ceiling of what we will pay per player.
"Now if Jed and his agent doesn't think that is enough and they think he is better than that and he doesn't sign, then as long as we show the intent it will go to a tribunal."
Catlin also said the player would not be allowed to leave on the cheap despite recently coming out of administration.
"If an offer comes in it will be a question for the board but we don't have to sell the player on the cheap," he said.
"There probably is a figure where it makes logical sense as it goes back into the club and back to guy to invest in the squad."