Hearts: Registration ban to run until February 2014
Last updated on .From the section Football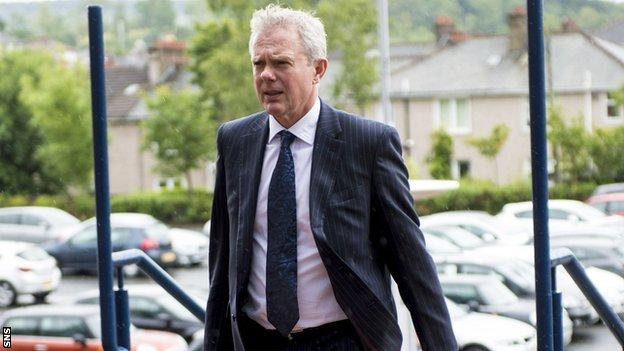 Hearts have been issued with a new registration embargo for going into administration.
A Scottish FA judicial panel has imposed a ban on signing new players aged 21 and over until 1 February.
The club cannot sign any player at the moment due to an automatic registration embargo which kicked in when they entered administration.
Trevor Birch, of Hearts' administrator BDO, said "It feels like we're being penalised twice."
On issuing its ruling, the SFA said in a statement: "This prohibition will not apply to players currently registered with the Scottish FA as being with the club."
Birch then expressed his dismay at the additional signing ban, saying the decision was "disappointing".
"Whilst I appreciate that the SFA rules state that clubs in administration will face sanctions, Hearts have already had a points deduction and player embargo," he said.
"That said, these are the cards that we've been dealt and we'll now just have to get on with it.
"At least the decision gives us clarity and means that the bidders can move forward and focus their attention on refining their proposals rather than worrying about possible sanctions."
Hearts entered administration on 19 June and BDO reported on Thursday that
The team will start the Scottish Premiership season with a 15-point deduction, with Gary Locke's side beginning their campaign against St Johnstone at McDiarmid Park on Sunday.