Torquay United: Thea Bristow wants 'new blood' and investment
Last updated on .From the section Football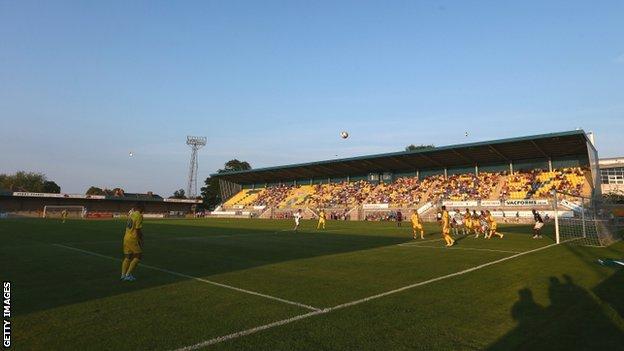 Torquay have issued a public appeal for "new blood" to join the board of directors and invest in the club.
A club statement said that financial backing "would be very welcome".
''I am not a bottomless pit of money and we would love to attract some new investment at board level,'' said Gulls chairwoman Thea Bristow.
''Allied to that, the injection of new ideas and innovations on a strategic basis can only be beneficial to the football club."
The Gulls narrowly survived in League Two last year, and have attracted average crowds of 2,880 over the last four seasons.
"We are proud of the way we work as a team and any new member would be joining a very loyal and dedicated group of people," added Bristow.
''So much good has happened in the six years since we became involved with Torquay United. The team has risen from nowhere to the verge of League One a couple of seasons ago.
''We have built a magnificent new grandstand and drastically improved the other areas of our stadium, and a sign of our determination to continue the upward curve of progression is the work currently taking place at our Seale Hayne training ground.
''Torquay United is a special club, a fantastic brand and a happy family that is looking forward to the introduction of a new member.''
Mrs Bristow became chairwoman in April 2013. Plainmoor's new grandstand is known as Bristow's Bench in tribute to her husband and former director Paul, who died in 2010.
They became involved at Torquay after they invested some of their £15m National Lottery winnings in the club.
Meanwhile club legend Dean Edwards, who is now the club's commercial manager, has told BBC Spotlight about the challenges of his role at Plainmoor.
The 51-year-old is held in high esteem by Torquay fans with his achievements including becoming the first Devon player to score at Wembley and helping the Gulls to promotion via the play-offs.
"People don't realise the money that has to be generated for football clubs to survive, especially at our level," he said.
"If we're having a good season we average 3,000 gates, if we're not doing so well it's 2,000 - that thousand people is a lot of money over the season. I have to bring in a certain amount of money and we need that for the electric and the gas.
"People don't see that - they only see what the centre forward costs."