Rangers seek clarification on transfer embargo
Last updated on .From the section Rangers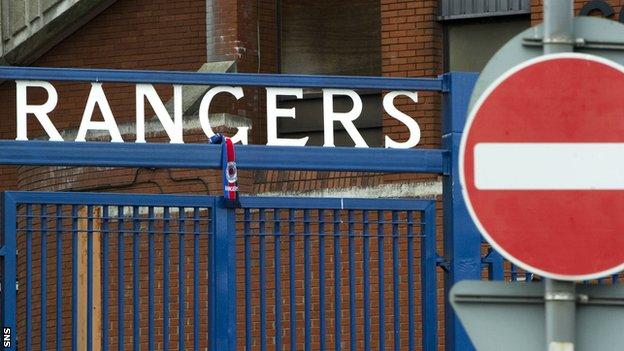 Rangers will seek clarification over what the club perceives to be "anomalies" in punishments issued to them and other clubs in administration.
Hearts have received a transfer embargo until the end of January 2014, while Rangers were fined £50,000 last summer.
Rangers also received a 12-month embargo, though it was initially for bringing the game into disrepute.
The statement read: "there is one rule for our club and another for everyone else."
In April last year, during the club's administration period Rangers were hit with a 12-month transfer embargo, while owner Craig Whyte was banned for life from any involvement in Scottish football.
The Scottish Football Association also fined the Glasgow club £160,000, while Whyte, who was charged with not being a fit and proper person to be a director, was issued with a fine of £200,000.
The transfer embargo means the Ibrox club can only sign players under the age of 18 until 1 September 2013, which came into effect in September 2012.
Rangers received the embargo and a £100,000 fine for breaching the Scottish FA's rule 66, bringing the game into disrepute.
A £50,000 fine was handed out for going into administration and £10,000 for failing to ensure that Whyte acted within rules concerning fit and proper officials.
The club's parent company, The Rangers Football Club PLC, was eventually placed into formal liquidation, but the transfer embargo was carried over to the new company which purchased the club's assets.
The new company, The Rangers Football Club Ltd, agreed to accept the embargo as part of a conditional transference of SFA membership.
Hearts' ban will run at least for six months and prevents them from signing players over the age of 21, although the Tynecastle club cannot sign any players at the moment due to an automatic registration embargo which commenced when they entered administration on 19 June.
Hearts were not issued a fine for entering administration, but prior to insolvency, Rangers had intentionally failed to pay social taxes, which may have had a bearing on the SFA disciplinary panel's decision to issue the club with a financial sanction.
The full statement from Rangers reads: "Rangers Football Club notes today's verdict by the Disciplinary Tribunal who ruled that Hearts cannot register any players over the age of 21 between now and February 1, 2014.
"We also recall that Dunfermline were given a similar sanction in May.
"But in particular, Rangers are aware of the glaring differences in the sanctions imposed on three clubs who entered administration. Our club, Rangers, was hit with a £50,000 fine and given a 12 month registration embargo.
"While no-one at this club wishes to see others fall on hard times, questions must be asked about these anomalies and we fully understand the rising anger among our fans. They are entitled to think there is one rule for our club and another for everyone else.
"We will be seeking clarification for our fans."