Coventry City: Ricoh Arena's owners lodge complaint

By Matt Slater
BBC sports news reporter
Last updated on .From the section Football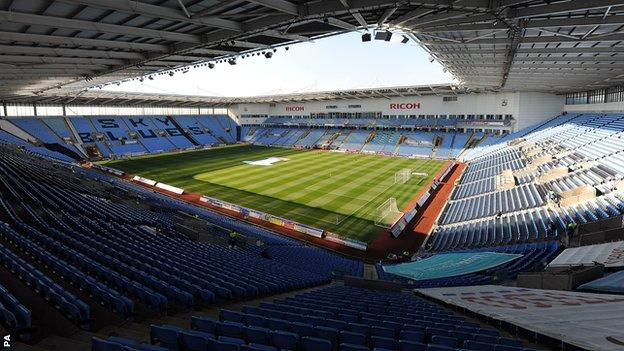 The owners of the Ricoh Arena have made a formal complaint against the Football League for allowing Coventry City to play their home games at Northampton Town's ground.
The league agreed to the move on 8 July when the club's prospective new owners, Otium Entertainment Group, asked for permission to play City's home games at the Sixfields Stadium for the next three years.
But Arena Coventry Limited (ACL), which operates the Ricoh Arena on behalf of co-owners Coventry City Council and the Alan Edward Higgs Charity, says Otium had no right to request the move, as its takeover of City has not been completed.
ACL also asserts the Football League failed to act fairly in agreeing to the request, did not consult with ACL, and did not fully consider its own criteria for permitting clubs to move grounds.
As a result, ACL is asking for the Football League, which celebrates its 125th anniversary this season, to effectively remove itself from the decision-making process and refer the case to the Football Association.
This complaint to the Football League's Football Disciplinary Commission comes on the eve of a creditors' meeting that could see the beleaguered League One club come out of administration, a form of temporary protection from insolvency intended to give an ailing business one last chance to restructure its debts.
Coventry City FC Limited was placed in administration in March by one of the companies associated with parent firm Sisu Capital, a London-based hedge fund which bought the club in 2007, two years after the Midlands club moved from their long-standing home at Highfield Road to the 32,000-capacity Ricoh Arena.
Under Sisu's ownership, however, City have racked up £30m in losses, have been relegated to the third tier and become embroiled in a bitter rent dispute with ACL.
It was this dispute that ultimately forced the club into administration, triggering a 10-point penalty last season which could be at least doubled this season if City fail to exit administration by the league's preferred method of a negotiated settlement with its creditors.
That looks unlikely at present, with ACL and Otium, a company connected to Sisu, showing no signs of compromise on how much money City owe in back-rent and, more importantly, a more affordable figure to keep them at the Ricoh Arena.
Under the terms of a deal made in 2005, the club had been paying £1.2m to ACL in rent, with only a limited share of the catering and parking revenues from matchdays.
But with ACL keen to keep the club at the Ricoh Arena (about 5% of its total revenues come from hosting football matches) and Coventry City fans almost unanimously in favour of staying, the stadium operators are now offering a reduced rate of £150,000 in League One, rising to £400,000 if the club returns to the Championship.
But with Otium apparently determined to relocate the club to Northampton while it builds a new stadium in Coventry, ACL is challenging the Football League's decision to sanction the 35-mile move to the Sixfields Stadium - something league chairman Greg Clarke described as doing with "deep regret".
Coventry City start the 2013-14 season away at Crawley Town on Saturday, with their first "home" game at Northampton Town's 7,500-seat ground on 11 August.