Cardiff signing Stephen Caulker eyes England World Cup spot
Last updated on .From the section Cardiff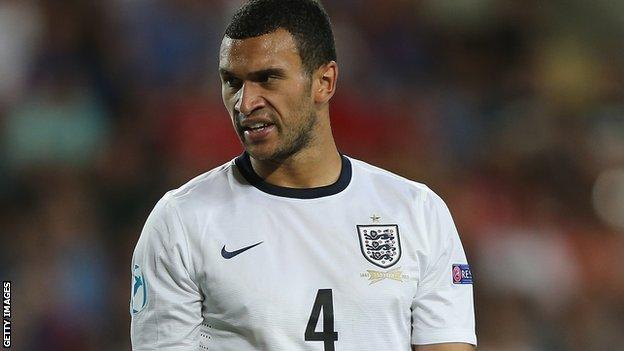 Defender Stephen Caulker hopes his move to Cardiff City can help get him into England's plans for the 2014 World Cup in Brazil.
The former Swansea City loan signing has struggled to hold down a regular first-team spot at White Hart Lane.
"If you ask any Englishman they have one eye on the World Cup," he said.
"[But] first and foremost I am going to have to work hard, impress off the pitch and on the pitch to earn that sort of achievement.
"But it's something I will definitely work towards."
Caulker admitted that he probably would have been a fringe player if he had stayed at Spurs and his move to Cardiff is in pursuit of regular football.
"It wasn't a case of necessarily wanting to leave. I was at a stage of my career where I wanted to play regular football," admitted Caulker.
"Spurs have three fantastic centre-halves [and] it was a case of possibly being fourth choice this season and not getting as many games as I would have liked.
"I didn't want to put my career on hold. I wanted to get out and get as much experience as possible.
"When these opportunities come round, they don't come round too often."
Cardiff City manager Malky Mackay praised Caulker's decision to look for regular football.
"To be at a big football club and be part of a squad, you are loathe to leave because it's a comfort blanket associated with it. To take the step out and further your own career is a brave decision," said Mackay.
"We were delighted to get him. He is someone I've known about for a good few years.
"He was always beyond my reach in terms of the situations and the clubs he has been at.
"He is 21 years old, two years in the Premier League and he has got two England caps. Everything absolutely stacked up, which meant we would try and break the record transfer to go and get him.
"It's about adding quality to the group and that's what we have done."
Now Caulker is looking forward to the possibility of a Welsh derby against his former loan club Swansea City, who he made 26 appearances for in the 2011-2012 season.
"I really enjoyed my time there [Swansea City] and the people in south Wales are great and it was a no-brainer for me moving to south Wales.
"I managed to play in a London derby a few years ago. This would be my second derby and one I would most definitely look forward to."