MK Dons: Pete Winkelman got promotion claim 'wrong last year'
Last updated on .From the section Football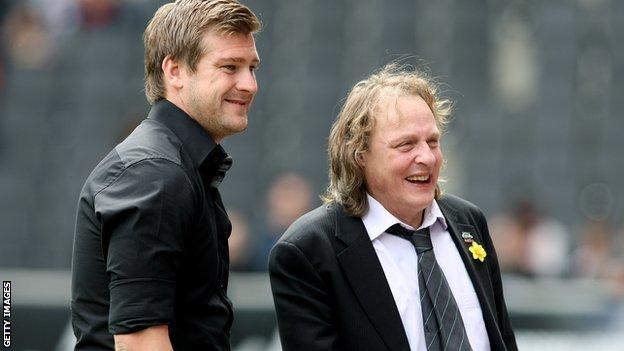 MK Dons chairman Pete Winkelman has said it was a mistake to talk up his side's promotion chances last season.
Despite being billed as pre-season contenders, the Dons finished eighth in League One.
And Winkelman, who has the ambition of taking MK to the Championship, has said he will rein in his rhetoric this term.
"I think I got it wrong last year. Even when I was saying it I thought 'is this the right thing to do?'," he told BBC Three Counties Radio.
"But everyone was talking about us being promotion favourites. Did we fancy it? Yes we did. Did we chase it? Yes.
"But did it have some other repercussions we didn't plan for? Did it put too much pressure on us and did we play our brand of football?
"This year I'm not going to talk about the 'P' word. It's gong to be about fun and remembering why we do it in the first place."
Manager Karl Robinson will enter his fourth full season at the helm of the Buckinghamshire club, having reached the play-offs in two of his three attempts.
The Dons open their new campaign at Shrewsbury on Saturday.
"I still believe that if we play with the abandon we can play with, we will win more games than we lose," added Winkelman.
"And if we do that we might be there or there abouts at the end."
Winkelman expects ongoing work to the stadium to be completed before the end of this year.
He then hopes to focus on finding a new training ground, with the current facility believed to be a factor in the team's long injury list last season.
"Most of our injuries don't come in games. They come in training," he said
"Why? Because we're training on clay. It's just not great and if we want to be a great club we have to sort that training ground out."