Fifa endorses decision to ban Kallon from SLFA election
By Mohamed Fajah Barrie
BBC Sport, Freetown
Last updated on .From the section Football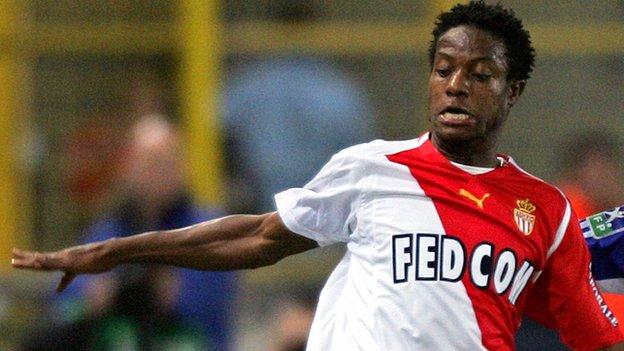 World football's governing body Fifa has endorsed the decision to disqualify Mohamed Kallon and two other candidates from the Sierra Leone Football Associations's presidential elections.
It means Isha Johansen is the only remaining candidate and she will be elected unopposed on Saturday to become the first female president of the SLFA.
Two Fifa officials Primo Corvaro and Prosper Abega arrived in Freetown on Thursday to monitor the elections and immediately had a meeting with Sierra Leone's President Ernest Bai Koroma who was asked to mediate by the disqualified candidates.
BBC Sport understands that the Fifa officials told President Koroma that the SLFA Normalisation Committee's decision was final and binding.
Former Inter Milan and AS Monaco striker Kallon was ruled out because the SLFA believes he has not lived in the country for the required "period of no less than five years prior to the congress of which they seek to be elected".
Kallon insists he is qualified and has support from Sierra Leone's top-flight clubs who have boycotted the league in protest against the decision and caused the suspension of the competition.
The other two disqualified candidates from contesting the presidential race are Rodney Michael and Foday Turay, both because they contravene Article 25 of the Fifa code of Ethics which deals with betting, gambling, lotteries and similar events or transaction connected with football.
The pair have denied any wrongdoing, stating that the article was wrongly interpreted and are they insist they are ready to clear their names.
All three disqualified presidential candidates have together called on their supporters to be calm and not to take on to the street to protest.
Supporters of both Kallon and Michael held a peaceful protest in front of State House in Freetown last Monday to express their dissatisfaction over the decision to ban their candidates.
The three men have also decided not to boycott the elections and have said they will participate as delegates.