AFC Bournemouth: Eddie Mitchell targets financial independence
Last updated on .From the section Bournemouth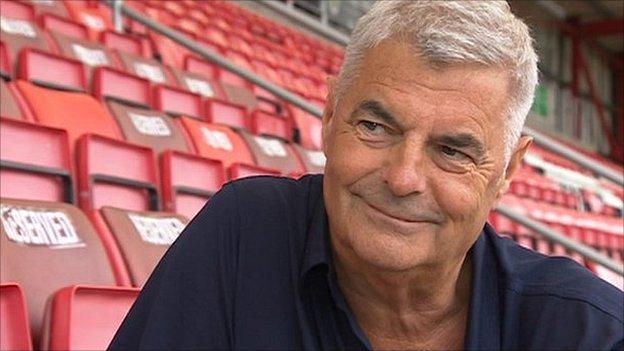 Bournemouth chairman Eddie Mitchell says he is confident the club can move to a position in the future where it is not dependent on benefactor Max Demin.
The Russian has invested millions since becoming a 50% stakeholder in the Cherries, money which has helped the club rise back into the Championship.
But Mitchell told the BBC Radio Solent Cherries Fans Forum on Thursday the club is striving to become independent.
"That is what we are working towards," said Mitchell.
Demin has invested heavily on and off the pitch, but Mitchell told the forum their success is not entirely down to the Russian's financial help.
"While we appreciate the investment Max has brought, there are many companies supporting this club that weren't here when I came here," added Mitchell.
"We've worked tirelessly to get other people involved in the club so that it doesn't become dependent on one person.
"That is our safety. But the fans have got to do their part by bringing friends along and filling the stadium to enjoy the success."