Luis Suarez to consider transfer request in Liverpool dispute
By David Ornstein
BBC Sport
Last updated on .From the section Liverpool1802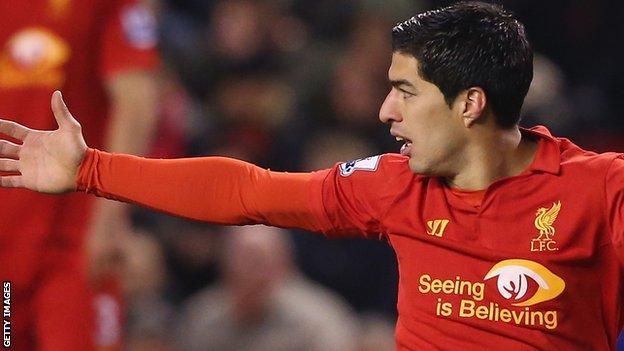 Luis Suarez will consider submitting a formal transfer request and the possibility of court action if his Liverpool dispute is not resolved, say sources close to the player.
The 26-year-old believes Arsenal's bid of triggered a clause in his contract that allows him to leave.
Liverpool rejected the offer and insist the clause does not force them to sell.
"We want to [sign Suarez] if it is feasible in an amicable way," said Gunners manager Arsene Wenger.
"We will respect what Liverpool want to do. I don't want to speak about Suarez, because that is between Liverpool and Arsenal.
"I am a great believer you have to keep as much confidentiality as possible, which is quite difficult in the modern world.
"But we work very hard, not only on the case you name, but on other different cases. We can still strengthen the squad, there is one month to go. We are at the beginning of August and working very hard to strengthen our squad.
"I am confident. You look at many teams around us. Nothing has happened until now. At the moment the market hasn't moved a lot. Apart from Manchester City, nobody has done anything."
Arsenal made their club-record offer of £40m plus £1 for Suarez in the belief that it would enable them to secure the Uruguay international's services.
Liverpool continue to insist that Suarez is not for sale.
It is understood that when Suarez signed a new contract in August 2012, he requested a clause that allowed him to depart if Liverpool failed to qualify for the Champions League and received a bid in excess of £40m.
Liverpool refused this but suggested an arrangement that obliged them to act in good faith if those conditions were met, which Suarez argues he only accepted because he felt there was verbal agreement from all parties that - despite the new wording - it would work in the same way as a release clause.
While Liverpool are confident that from a legal perspective their position stands up to scrutiny - and Suarez reluctantly agrees - the player is adamant the Reds have gone back on their word and feels let down.
He has informed Liverpool manager Brendan Rodgers of his desire to leave for Champions League football and the only proposal on the table is from Arsenal, with reported interest from Real Madrid failing to materialise.
Whereas Liverpool have not played in the Champions League since 2009 and missed out on European qualification altogether for next season, Arsenal will feature in the competition for a 17th consecutive campaign.
Sources close to Suarez say he will consider taking his case to the Court of Arbitration for Sport and he did go down a similar route when Dutch side Groningen turned down an offer from Ajax for his services in 2007.
He scored 30 goals in 44 appearances for Liverpool last season but speculation has grown about his future since he was given a 10-match ban in April for biting Chelsea defender Branislav Ivanovic.
Suarez, who joined Liverpool from Ajax for £22.7m in January 2011, still has to serve six games of that ban and was also after being found guilty of racially abusing Manchester United defender Patrice Evra.
The Uruguayan made his first appearance since the Ivanovic incident last week in Liverpool's 2-0 friendly win over Melbourne Victory.