Martin Allen: Gillingham boss confident of League One success
Last updated on .From the section Football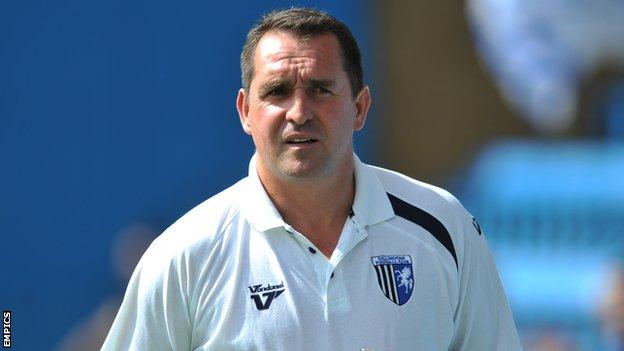 Gillingham manager Martin Allen expects his side to be able to adapt to life in League One quickly.
The League Two champions begin their campaign at home to Colchester.
He told BBC Radio Kent: "Just about everyone here has done well at this level. League One ain't no great shakes, trust me.
"We are all on the edge of our seats thinking what will it be like playing against these big clubs? I honestly don't think they are that big."
Wolves, following back-to-back relegations, are among six former Premier League sides currently in the third tier but Allen is confident his side will be able to compete.
"There are some good teams there and big clubs with big budgets, big stadiums and well paid players," he said.
"But names are nothing and stadiums are nothing. Your history does not win out on the football pitch.
"Everyone is in the division because they deserve to be, no matter what their history is. It ain't that good. It's League One.
"If it was that good they would be playing in the Premier League.
"It's not like we are playing Premier League clubs or Championship clubs. It is just League One.
"We'll take a couple of cooling tablets, get ourselves a nice bottle of water, chill out and go out and smash them all again."
Allen is now hungry to achieve further success after lifting the League Two title in April.
"I knew last year we would go up. There was no doubt about it and I said it from day one," he said.
"This one, I want to challenge and be there or thereabouts again.
"I said it as soon as we got promoted last year and in front of the players.
"Winning the title was the best feeling I had in my career. I left school at 15 and have been in football for 33 years.
"I have played in big games and big competitions but winning the championship last year was the most unbelievable moment, right up there with the birth of your children.
"It is the highlight and pinnacle of your life when those days happen. I want it to happen again."