Rangers: Charles Green back at Ibrox as 'consultant'
Last updated on .From the section Football439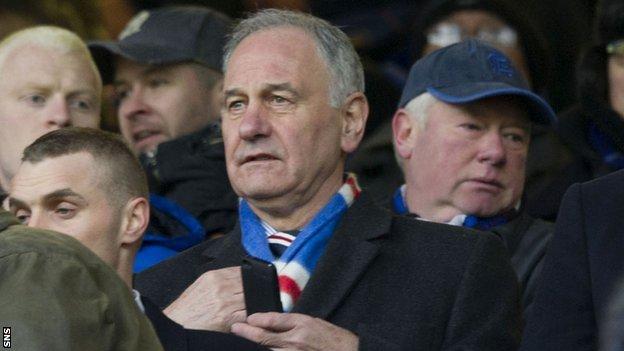 Charles Green, who stood down as chief executive in April amid controversy, has returned to Rangers - as a consultant - the club has announced.
He stood down amid a probe into his links with former owner Craig Whyte in the lead-up to the Green-led takeover.
The club told the Stock Exchange: "Mr Green's role will be to promote the interests of Rangers Football Club.
"Specifically assisting with shareholder relations and advising the company on its capital structure."
Green took up the position of chief executive last summer after leading the consortium that purchased the assets of the liquidated Rangers Football Club plc.
But his stay ended in April when he resigned with immediate effect, citing the "negative publicity" surrounding an independent investigation, commissioned by the club's board, into allegations of undeclared dealings with Whyte.
That investigation consequently found no evidence of Whyte's claims that he was involved in the Green-led acquisition of Rangers' business and assets.
Under Green's stewardship, Rangers raised £22.2m via a share offer and began trading on London's Alternative Investments Market (AIM).
Green remains a shareholder at the club, who were promoted last season to the new League One as Division Three champions.
The announcement of his return comes on the same day that a group of shareholders called for the removal of key directors, including current chief executive Craig Mather.