Nigeria FA reiterates decision to reduce bonus payments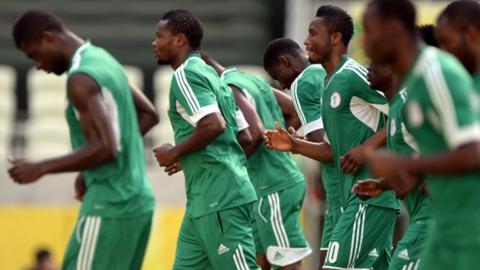 The Nigeria Football Federation (NFF) has insisted it will not back down on its decision to slash bonuses paid to the players in the national team.
The NFF's decision to reduce performance money from $10,000 for a win and $5,000 for a draw to $5,000 and $2,500 respectively led to the national team almost boycotting the Confederations Cup in Brazil in June.
Although the country's sports ministry has assembled a panel to investigate the bonus row that fuelled anger within the squad, the NFF says it will not make a dramatic U-turn.
"It was a decision taken by the NFF executive committee after a thorough deliberation," NFF general secretary Musa Amadu said.
"We've taken into account the peculiar situation [financial problems] of how things are with the federation.
"The [amounts of] $5,000 for a win and $2,500 for a draw is what we have settled for, agreed with the team and can actually afford.
"We inherited the $10,000 amount and, with good intention, decided to continue paying the players that sum in order to motivate them.
"With the financial challenge, we opted for a cost-cutting measure to accommodate our demands and we got everyone on board.
"It's significant to know that, at $5,000, the Super Eagles remain among the best-paid national teams in Africa - a fact the players need to understand."
The NFF's comments come despite the investigative panel not yet making public their findings.
With the bonus issue taking centre stage, the local media and fans are hoping it will not disrupt the Super Eagles' World Cup qualifying campaign, with a must-win final Group F game against Malawi coming up next month.
"We are trying not to undermine the laudable efforts of the panel investigating the bonus row," NFF spokesman Ademola Olajire told BBC Sport.
"The way the federation is operating right now is based on the financial situation.
"At the moment, there is no change on the bonus agreement. We are confident everyone will respect the NFF's position on this matter."
The poor financial position of the NFF has already forced the country to cut their backroom staff and slashed the salaries and allowances of the various national team coaches, excluding coach Stephen Keshi.