Rangers: Call to remove chief executive Craig Mather
Last updated on .From the section Football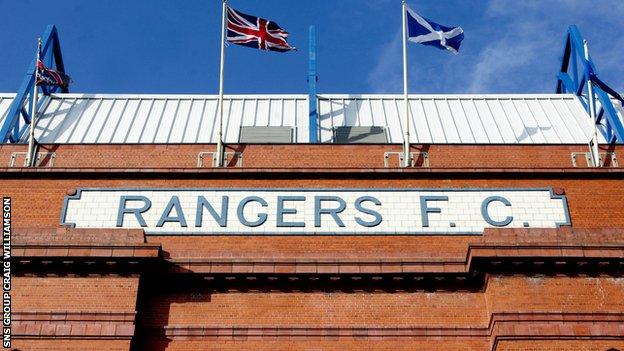 A group of Rangers shareholders are calling for the removal of directors, including chief executive Craig Mather.
Among those requesting a general meeting of shareholders is former Ibrox director Paul Murray, who is also seeking a place on the board.
A statement to the London Stock Exchange confirms the request and a proposal to get rid of Mather, Brian Stockbridge and Bryan Smart.
The Rangers board say they are looking into the validity of the request.
The news comes hours after it was announced that former chief executive Charles Green is returning as a consultant to the company to help "promote the interests" of the club.
Paul Murray was involved in a rival bid when a Green-led consortium purchased the assets of the liquidated Rangers Football Club plc.
The statement read: "The board of Rangers confirms that, on 1 August 2013, it received a notice requisitioning a general meeting of shareholders.
"The requisition puts forward resolutions for the removal of Craig Mather, [financial director] Brian Stockbridge and [non-executive director] as directors of the company and the appointment of Paul Murray and Frank Blin as directors of the company.
"The board is verifying whether the requisition is properly constituted and further announcements will be made as appropriate."
Mather was given the chief executive officer's role on a permanent basis last month, following Green's departure.
His annual salary of £500,000 has angered some within the club, BBC Scotland has learned.
Non-executive directors Malcolm Murray and Phil Cartmell left the board last month, with James Easdale joining in the same capacity.
Malcolm Murray had been installed as chairman by Green and the pension fund manager survived several attempts to oust him from his position before stepping aside in late May, allowing former manager Walter Smith to take over as non-executive chairman.
Paul Murray's bid to return to the board could be scuppered under the Scottish FA's Articles of Association rules regarding fit and proper office bearers, as he was a director in the five-year period preceding the club's insolvency event in 2012.
Paul Murray was appointed to the Rangers board in September 2007 and resigned in May 2011 when Craig Whyte assumed control.