Richie Barker: Crawley Town must be realistic in League One
Last updated on .From the section Crawley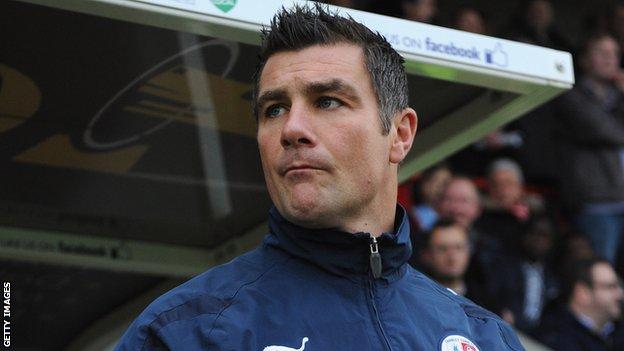 Crawley Town manager Richie Barker has warned his side could face a difficult campaign in League One.
The Reds finished in 10th place last season, six points off the play-offs.
He told BBC Sussex: "If we could finish anywhere near where we did last year that would be amazing and a real achievement.
"I think it will be a really tough season. Expectations are high but we have got to manage them and be realistic."
He added: "We are Crawley Town, playing in League One against some massive clubs.
"There is no getting away from initially the aim is to get to 50 points as quickly as possible.
"The number of games we have got left will dictate where we go from there."
Despite the summer signings of Andy Drury and James Hurst, the West Sussex side start the season with just 15 senior professionals.
"It is not exactly how we would have wanted it to go," he said. "In those 15 senior players I think six of them are 21 and under. They are not very 'senior' senior ones but that is the way we have recruited and wanted to do it.
"In terms of where we are, the players have been excellent and showed a fantastic attitude in pre-season.
"Are we a little bit short? Yes. But it is what it is and the players will get on with it."
However, Barker, who took charge at the Broadfield Stadium a year ago, is content that he has managed to re-mould his squad in order to play attractive football.
"Part of my decision-making when I first came in was, 'who would be able to handle what I want to do?'," he continued. "The ones who couldn't have obviously moved on.
"The ones who are left are the the ones who can handle what we want to do on a daily basis, a weekly basis, the way we want to run the place and the way we want to conduct ourselves.
"I am extremely happy with the 15 senior ones I have got and some of the young ones.
"I have been accountable from day one since I came in. Has it been easy? No. When I first came in I think I had 29 pros so we have almost halved the squad.
"There have been various circumstances to why that is the case. It is the hand I have been dealt and I will get on with it."