Johansen confirmed as SLFA president
By Mohamed Fajah Barrie
BBC Sport, Freetown
Last updated on .From the section Football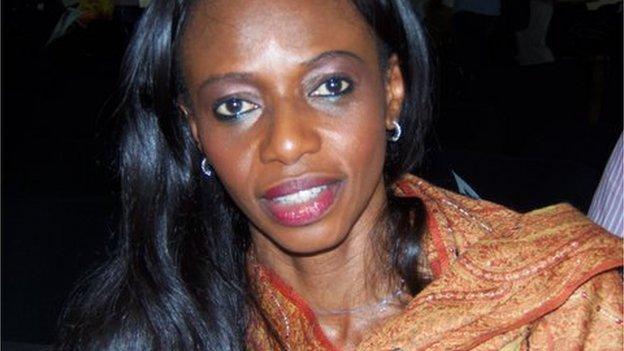 Despite some continued controversy Isha Johansen has been confirmed as the new president of the Sierra Leone Football Association.
She was unopposed in Saturday's polls after three other candidates were disqualified from standing.
The 48-year-old becomes just the second current female football association president in the world along with Lydia Nsekera of Burundi.
Johansen's first task will be to get league football resumed after a boycott by clubs over the ban on the three presidential nominees.
The Sierra Leone elections have been surrounded in controversy for almost a year and it continued with debate over eligible voting delegates on Saturday.
In the build-up this week world football's governing body, Fifa, endorsed the decision by the FA's interim committee to disqualify Mohamed Kallon, Rodney Michael and Foday Turay from the presidential polls.
All three decided to boycott Saturday's polls in protest at their expulsion from the elections.
However after the polls Johansen says she hopes that all four can work together in the future.
"I want to use this holy month of Ramadan and this opportunity to extend my hand of peace to Rodney Michael, Mohamed Kallon and Foday Turay, " she said.
"I'm the winner but I don't consider them as losers.
"We can work together because I don't have all the ideas - I appeal for the anger to stop.
"In the next three months we'll be holding an extraordinary conference to map out the way forward, we'll have a blue print."
Former Inter Milan and AS Monaco striker Kallon was ruled out because he has not lived in the country for the required "period of no less than five years prior to the congress of which they seek to be elected".
The other two disqualified candidates from contesting the presidential race are Rodney Michael and Foday Turay, both because they contravene Article 25 of the Fifa code of Ethics which deals with betting, gambling, lotteries and similar events or transaction connected with football.
The elections were due to be held in January but but were delayed as an interim body was set-up in the wake of last year's presidential elections in the country.
The interim body was needed after Fifa dissolved the SLFA executive committee when President Nahim Khadi, who was ill, and Vice-President Alie Kargbo stepped down.
The SLFA elections had been postponed several times following disagreements over who was eligible to stand in the presidential elections.
The crisis almost lead to a global ban in September 2012 when when Sports Minister Paul Kamara was forced to back-track on a decision to dissolve the SLFA board due to incompetence.