Rangers: Craig Mather defiant over move to oust him
Last updated on .From the section Football51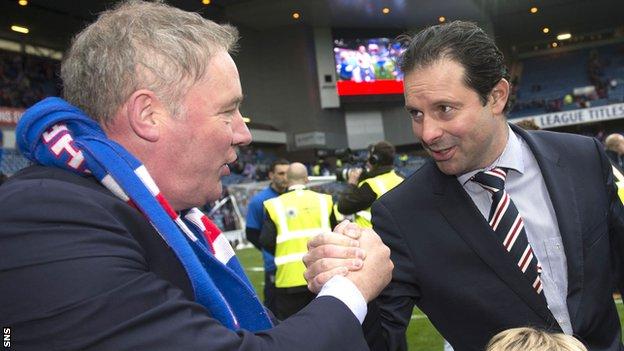 Rangers chief executive Craig Mather has issued a statement in response to "the recent frenzy" surrounding the club.
The chief executive said supporters were aware of those "trying to grab pieces of their club" and seize power.
"But we will not be defeated, I certainly won't," he told the Rangers website.
Among those requesting a general meeting of shareholders is former Ibrox director Paul Murray, who is also seeking a place on the board.
A statement to the London Stock Exchange confirms the request and a proposal to get rid of Mather, Brian Stockbridge and Bryan Smart.
"Rangers fans are well aware that there have been various people trying to grab pieces of their club for years now and to force themselves into positions of power," said the chief executive.
"However, all they have ever done and continue to do is have a negative effect when I and the other directors are trying to focus totally on taking Rangers back to the pinnacle of Scottish football.
"It is a difficult task and yet again we are seeing people attempting to make it impossible.
"But we will not be defeated, I certainly won't, and we will meet this latest ill-considered and ill-timed challenge head on."
Mather said he and the rest of the Ibrox board were fully behind manager Ally McCoist.
Former chief executive Charles Green has returned to Ibrox as a consultant to the company to help "promote the interests" of the club.
Mather was given the chief executive officer's role on a permanent basis last month, following Green's departure. His annual salary of £500,000 is believed to have angered some within the club.
The chief executive added: "I urge all of our fans not to listen to rhetoric or empty promises and continue to support the manager and those of us who do genuinely have Rangers' best interests at heart.
"Everyone is entitled to an opinion, including Charles Green. But what I want to make clear is this: backing the manager and the playing staff in their quest to restore Rangers' fortunes is critical to our ambitions."
Non-executive directors Malcolm Murray and Phil Cartmell left the board last month, with James Easdale joining in the same capacity.
Malcolm Murray had been installed as chairman by Green and the pension fund manager survived several attempts to oust him from his position before stepping aside in late May, allowing former manager Walter Smith to take over as non-executive chairman.