Liverpool: Luis Suarez shown support in Steven Gerrard match
Last updated on .From the section Liverpool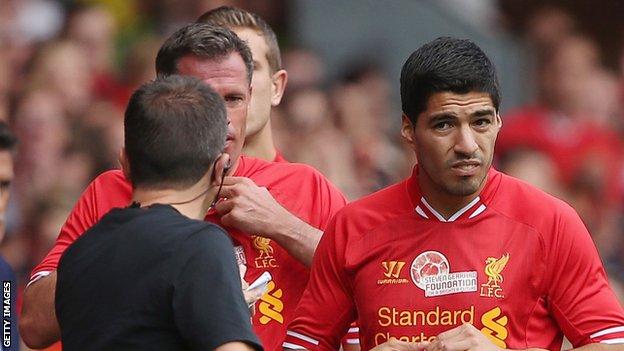 Liverpool striker Luis Suarez was given a rousing ovation at Anfield as he made a second-half cameo in Steven Gerrard's testimonial against Olympiakos.
"It just shows you the class of the Liverpool supporters. They love their own and Luis is still very much part of the group," boss Brendan Rodgers said.
Goals from Joe Allen and Jordan Henderson secured the Reds a 2-0 win.
Rodgers added: "Maybe people wondered what kind of reception he would get, but that's the type of supporters Liverpool are.
"Today was another message from them that they love him here. We all love him, as a manager, players and supporters. He was probably humbled by the reception."
The Uruguay international's Anfield future remains uncertain after he spoke of his desire to leave despite only signing a new long-term contract in August 2012.
Arsenal made a club-record offer of £40m plus £1 for Suarez in the belief it would enable them to secure his services, but Liverpool dispute the interpretation of a clause in his contract.
Sources close to the player say he will consider submitting a formal transfer request and the possibility of court action if the issue is not resolved.
But, despite the ongoing saga, Reds supporters took the opportunity to give Suarez a clear sign they want him to stay when he came on after 62 minutes of Saturday's game.
Rodgers said: "It is very, very simple: he is a top player and we don't want to sell him."
Tottenham forward Gareth Bale has been linked with a move to Real Madrid, with reports suggesting they would have to spend in excess of £100m for the Wales international.
Rodgers added: "Of course, throughout the world every player will have a value, but you only have to look at the market and £40m and £1... Gareth Bale they are talking about nine figures.
"Gareth Bale and Luis Suarez were arguably the two best players in the Premier League and you can't say Gareth Bale is valued at more than 100% more than Luis Suarez.
"We are very strong in the belief in what we are doing and there will be no-one moving out of here."
A sell-out Anfield crowd of 44,362 gathered to honour captain Gerrard, who was celebrating 15 years at his only professional club.
There were no heroics from the England midfielder like the last time Olympiakos visited Anfield in December 2004, his late goal taking them a step closer to the fifth European Cup they would win in Istanbul at the end of the season.
But Liverpool continued their encouraging pre-season form as they comfortably beat their Greek opponents.
Midfielder Allen diverted the ball into the net for the opener from Iago Aspas's cross before the break and substitute Henderson doubled the lead from Raheem Sterling's pass in the second half.
Club legend Robbie Fowler made a brief second-half appearance, with the recently retired Jamie Carragher also coming off the bench.