Radamel Falcao's move to Monaco will boost Colombia
Last updated on .From the section Football234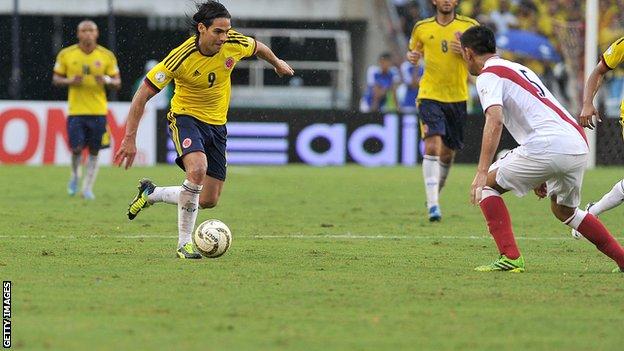 The French first division, Ligue One, kicks off at the weekend and newly promoted Monaco will be hoping to recapture former glories after spending big money over the summer.
While it surprised some that both players decided to move to Monaco, there is little doubt the transfers will benefit the Colombian national team.
The pair can further refine their on-field partnership - after all, a centre-forward is only as good as his service. Rodriguez and Falcao were in harness for Porto in the 2010-11 season and their relationship will surely benefit from playing together every week.
Perhaps more important is the fact their fixture load in the coming season will be relatively light. There are no European club competitions for Monaco. Restricted to domestic matches, there is little chance that Falcao and Rodriguez will have burnt themselves out before the 2014 World Cup.
It is undeniable that end-of-season fatigue is an important factor in tournament performance.
One of the most surprising sights I recall in football is that of Franco Baresi leading Italy out for the 1994 World Cup final. He had suffered an injury in the opening game, had undergone knee surgery and it was thought he would play no further part in the tournament. Yet there he was, given the task of organising his team's defence against the likes of Romario and Bebeto. It looked like madness.
In the event, though, Baresi gave an immaculate performance, reading everything around him, timing his tackles, quietly imposing himself and passing crisply forward. The fact he missed in the penalty shootout is one of football's great miscarriages of justice.
A few years ago I was present when the rival coaches from that match gave a news conference in Rio. Italy's Arrigo Sacchi and Carlos Alberto Parreira of Brazil recalled the debilitating heat in which the game took place. Sacchi revealed a comment made at half-time by his midfielder Roberto Donadoni.
"If we go upfield," he had said, "there is no way we will be able to get back." And of course, both remembered the superb display that Baresi had given. It just went to show, said Sacchi as Parreira nodded in agreement, "that it was better to be injured than to be tired."
Since then, of course, the demands on top players have risen still further. Indeed, one of Sacchi's themes on that occasion was that football had given in too much to financial questions, and that players should be prepared to be paid less in order to play less.
The club calendar is ever-swollen - even pre-season friendlies are now marketed these days as serious tournaments. And the World Cup becomes a victim of this process.
This was at its clearest in the 2002 tournament, in Japan and South Korea. The Champions League had recently been expanded and the World Cup was held early in a bid to avoid the rainy season. With so little time to recover, there was no margin for error.
The Brazil coaching staff, for example, are convinced they won that tournament in large part as a result of a better culture of physical preparation. They got Ronaldo fit, which Inter Milan had been unable to do. Barcelona did not believe that Rivaldo could play in the tournament. Brazil showed he could. And Cafu and Roberto Carlos, who had played the same European season as everyone else, kept on bombing up and down the flanks.
Meanwhile, Brazil could hardly believe their eyes as the one team they really feared self-destructed. France, reigning world champions, put their prestige on the line a few days before the tournament in a high-profile friendly against South Korea. The Brazilians would never have taken such a chance.
They had a gentle warm-up against Malaysia a week before debut, and then eased off. The French paid a high price for doing things differently. Against the Koreans Zinedine Zidane picked up an injury that kept him out of the first two games, and reduced him to one leg in the last match when France made a vain attempt to stay alive in the competition.
On such narrow margins are World Cups won and lost. Next year, though, Colombia's physical preparation specialists will probably not have to worry too much about two of their most important players.
Between Monaco games Falcao and Rodriguez can recuperate by enjoying the principality's relaxing views. And, for this season at least, there is no overload of games to take the edge off their displays when their country needs them most.
Comments on the piece in the space provided. Questions on South American football to vickerycolumn@hotmail.com, and I'll pick out a couple for next week.
From last week's postbag;
Q. Why does Oscar Cardozo struggle to score for Paraguay, while he is a goal machine for Benfica? Is it due to Paraguay's midfield lacking flair/creativity? Does he try too hard to impress?
Tom Fox
A. I think both factors you mentioned are important. And he's no stylist - he's an ungainly mover who can come across as sluggish and lazy, making him the perfect target for terrace abuse. Once his poor run for the national team became apparent, Paraguay's fans started getting at him and maybe his confidence suffered. With Benfica he's had enough easy games to build up some momentum - and he has a team that get to the byline much more than Paraguay.