Gus Poyet 'to take legal action' over Brighton sacking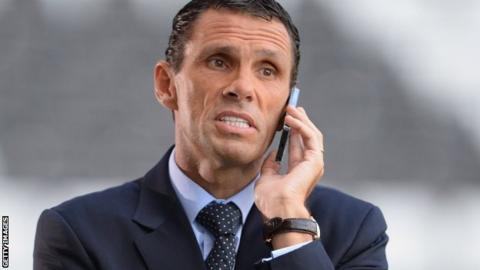 Former Brighton manager Gus Poyet says he will take legal action over
The Uruguayan, 45, was sacked in June following an internal investigation and disciplinary hearing.
"I totally disagree with every allegation and accusation the club has put on me," Poyet told Sky Sports.
"I'll take action because it's important for me. It is the best way for the truth to come out."
The reason for Poyet's sacking has not been revealed by either party, with Brighton saying the matter would stay confidential "to ensure and maintain confidentiality and dignity" after the former Chelsea midfielder's unsuccessful appeal against his dismissal.
Poyet was informed of his sacking by the BBC while working as a Match of the Day pundit during the Confederations Cup in June.
However, Brighton later insisted he knew his dismissal was pending at that point.
And chairman Tony Bloom told a fans' forum on Thursday
Poyet who at the time were in the middle of an unsuccessful fight against Premier League relegation, shortly after he is alleged to have made the request.
The League Managers' Association has stated that it "does not consider that the charges against Poyet amount to gross misconduct" and that its legal team is available to discuss his case.
Poyet was the sixth longest-serving manager in English football at the time of his dismissal, leading Brighton from the League One relegation zone when he took charge in November 2009 to fourth place in the Championship at the end of last season.
Spaniard Oscar Garcia has since taken charge of the Seagulls and he led them to