Gareth Bale joining Real Madrid can boost Wales - Mark Hughes
Last updated on .From the section Football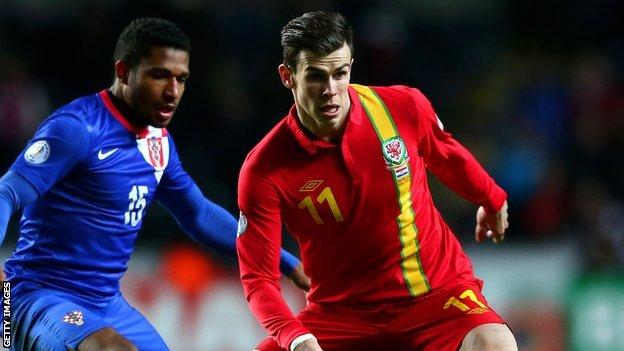 Gareth Bale can give himself and his national team a platform to shine if he decides to join Real Madrid, according to former Wales manager Mark Hughes.
Speculation is growing that Wales star Bale, 24, will join the Spanish giants, possibly for a world record fee.
Hughes, now manager of Stoke City, says leaving Tottenham is a big decision for Bale but also a huge opportunity.
"It's a huge stage and to have a Welshman playing on that stage will help the national team," Hughes said.
"As long as he feels comfortable that he can deal with the pressures that will be thrown at him, I wish him well, if that's the decision he makes.
"You've got to be sure in your own mind that it's the right decision for you, your family and your football career first and foremost."
Hughes, talking to BBC Wales Sport after his Premier League side edged Conference Premier side Wrexham 1-0 in a friendly on Sunday, speaks from experience after his own big-money move to Spain during his playing career.
In 1986 Hughes was sold by Manchester United to Barcelona for a then British record £2.3m, but struggled to adapt to the playing style at the Nou Camp. He was loaned to Bayern Munich the following season and proved a success in the German Bundesliga.
"When I moved there was significant difference in terms of what you could do going abroad. Now with the Premier League there isn't a great deal of difference to be perfectly honest," Hughes added.
"You can be an exceptionally rich young man if you stay in the Premier League, so really it would be a decision in terms of the football and culture he [Bale] wants to experience.
"It's a huge opportunity, you have to be strong enough mentally in being able to deal with everything that a move abroad entails.
"I was probably a little bit too young. I was 23 but in terms of my life experience and my football experience I was even younger than that.
"That's one of the reasons that I struggled out there... it was a big step and at the time there was a lot of speculation about my future.
"At times I probably felt I was railroaded into it somewhat and I ended up there, but it wasn't a bad place to end up."
There are reports that Real are preparing a bid in excess of the world record £80m fee they paid for Cristiano Ronaldo from Manchester United in 2009, although no formal offer has yet been made.
Forward Bale, who joined Spurs in a £10m deal from Southampton in 2007, was named player of the year by both the Professional Footballers' Association and Football Writers last season after scoring 26 goals for the White Hart Lane side.