Luis Suarez: Brendan Rodgers says Arsenal are playing a 'game'
Last updated on .From the section Football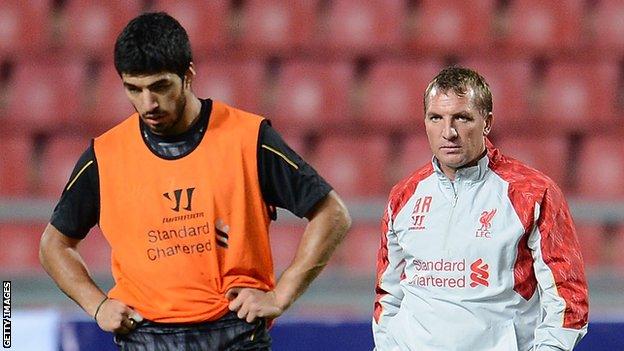 Liverpool boss Brendan Rodgers says Arsenal are "playing games" in their pursuit of Reds striker Luis Suarez.
"I've always associated Arsenal as a club with class and so there was a wee bit of a game there," said Rodgers.
Liverpool say Arsenal's valuation of the 26-year-old is below theirs.
Suarez, who scored 30 goals for the Reds last season, joined the club in January 2011 from Ajax for £22.7m and signed a long-term contract extension in August 2012.
However, he has told Rodgers he wants to leave in order to play in the Champions League.
Liverpool have made a £21m offer for Atletico Madrid striker Diego Costa, but Rodgers insists the club have no intention of selling Suarez.
"Obviously Arsenal have an interest and they put that interest in with two bids which were nowhere near what the player is worth, and that's within their right," he added.
"There is a market in football for players but from us the message is constant - we do not want to sell."
Sources close to Suarez say the player will consider submitting a formal transfer request and there is also possibility of court action if the dispute is not resolved, because he believes Arsenal's bid allows him to leave.
But Rodgers insisted: "I'm extremely confident Luis will be here next season.
"The offers have come in, as you would expect for one of the world's leading strikers.
"But as time goes by, I'm gaining more confidence because I have a chance to be with him on a day-to-day basis and he gets the chance to be around his team-mates.
"We're in total control of the situation as a club and that's how it will remain."
Suarez received a rousing ovation at Anfield as he made a second-half appearance during Steven Gerrard's testimonial against Olympiakos on Saturday.
Arsenal manager Arsene Wenger says he does not want to speak publicly about Suarez and wants relations with Liverpool to remain "amicable".