Kevin Doyle: Kenny Jackett prepares for Wolves striker's exit
Last updated on .From the section Football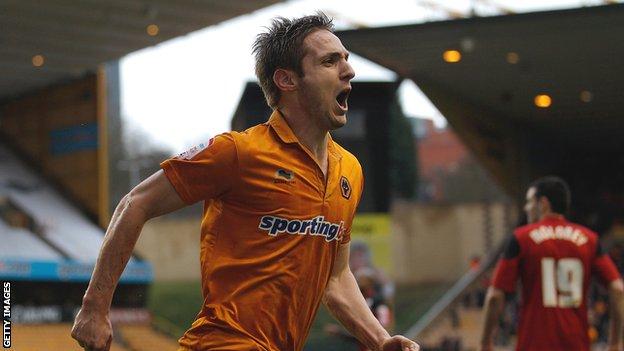 Wolves boss Kenny Jackett is planning for life without Kevin Doyle - but says he has not frozen out the striker.
The 29-year-old has been expected to leave the club since Wolves were relegated to League One in May.
"Between now and the end of the window, there will be interest in him," head coach Jackett told BBC Sport.
"In the meantime, he's not somebody I'm necessarily going to close the door on if he's right and available for selection and the team needs him."
Republic of Ireland international Doyle was not involved in because of a groin injury that has affected him throughout pre-season, although he is close to full fitness.
"His wages are too high for where we are. That's common knowledge," added Jackett, who put Roger Johnson, Jamie O'Hara, Karl Henry and Stephen Ward - among Wolves's top earners - shortly after replacing Dean Saunders in charge at Molineux.
while the other three players are not currently part of Jackett's first-team plans.
"He [Doyle] is not somebody I've pushed to one side or overlooked, but I haven't necessarily been planning with him because the expectation is that I was thinking he would go," said the former Millwall boss.
Celtic failed at the end of the January transfer window with a loan bid for Doyle, who cost Wolves a reported club-record fee of around £6.5m in 2009.
The Scottish Premier League champions are searching for another striker after although manager Neil Lennon has
Championship side Burnley are another club reported to be chasing Doyle, although their manager Sean Dyche conceded the former Reading man is likely to be out of their price range.
He told BBC Radio Lancashire: "With Charlie Austin going [to QPR], we'll be linked with everyone who's available.
"Kevin is a fine player, I must state, but I would imagine he's on a considerable contract. I'm not quite sure we can service his contractual needs, so I don't think that one's probable at the moment.
"There are many different names being thrown at me and, as we try to do, we'll do our business as privately as possible because we think that's appropriate."